How to Add a Video to YouTube
Notice
: Undefined variable: new_content in
/home/howto/public_html/wp-content/themes/puma_theme/content-single.php
on line
14
Creating a channel on YouTube might have been an easy task for you but keep it growing is an equally tough task. In order to let your channel grow, uploading good content is very important and everyone is aware of this fact, but what to do with the content once it is made and how to upload it. So, here are some ways by which you can add videos on YouTube very easily.
Sign into Your YouTube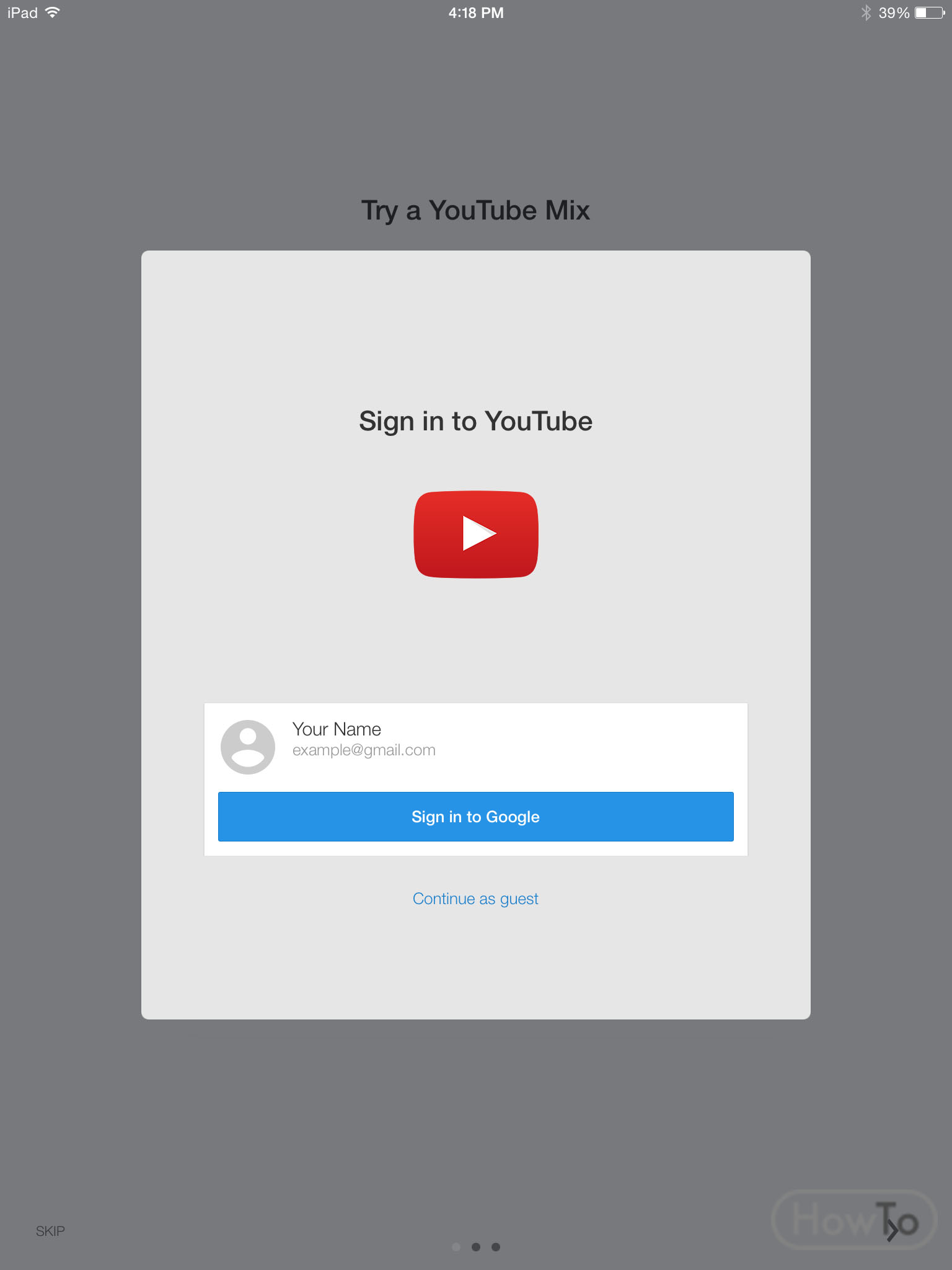 Like any other app, the first step is to sign in to your account in order to proceed further. So, just do it.
Go to the homepage of YouTube and then click on the sign-in link which is in the right-hand corner at the top.
In case you have more than one account which is linked with your device then you will be required to choose any one of them.
Once you have chosen the account, enter the password and you will be directed to the main page of YouTube.
Click on the "Upload" Button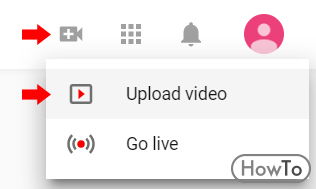 Once you have signed into your account, now it is time for you to upload the video and this step is even shorter than the first one.
Click on the "Upload" button. You will be able to locate it in the right-hand corner which is at the top of the screen.
This button is represented by an arrow of up direction and there is a line underneath that arrow.
This will direct you through to an upload page (dedicated), where you can simply choose where you can source your next viral sensation from.
Choose the Source of Video and Privacy Settings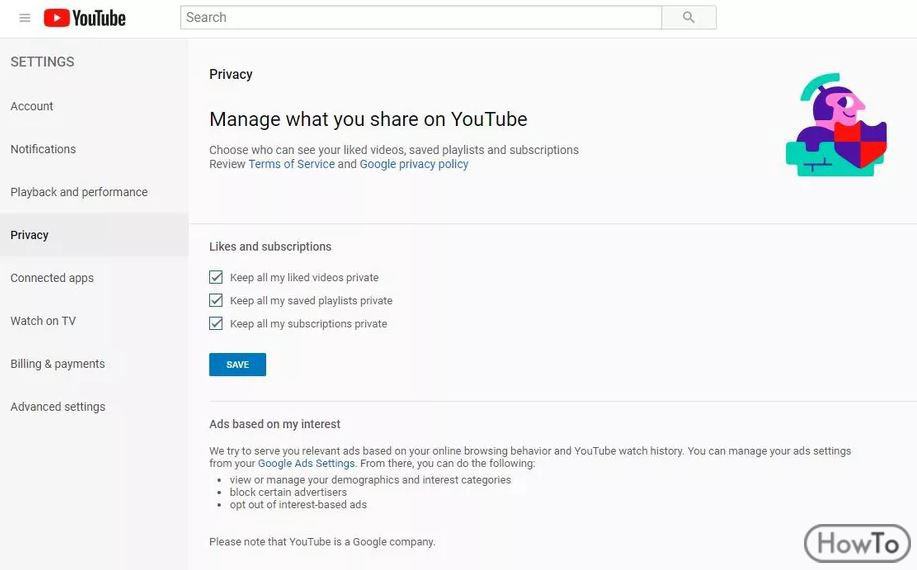 The upload page will give you various options to choose from and they all are worth considering. For beginners, you have to decide who you want to watch your video and then customize the privacy settings as per requirement. If you want everyone and anyone to view it, you can choose the "Public" setting.
If you want a bit more control over who should see it, then select "Unlisted" which will keep it from being findable.
If you just want to keep the video private for yourself, then opt for making the video "Private" instead.
Remember that "Scheduled" will let you choose an upcoming date & time for a video to make it public.
Manage the Upload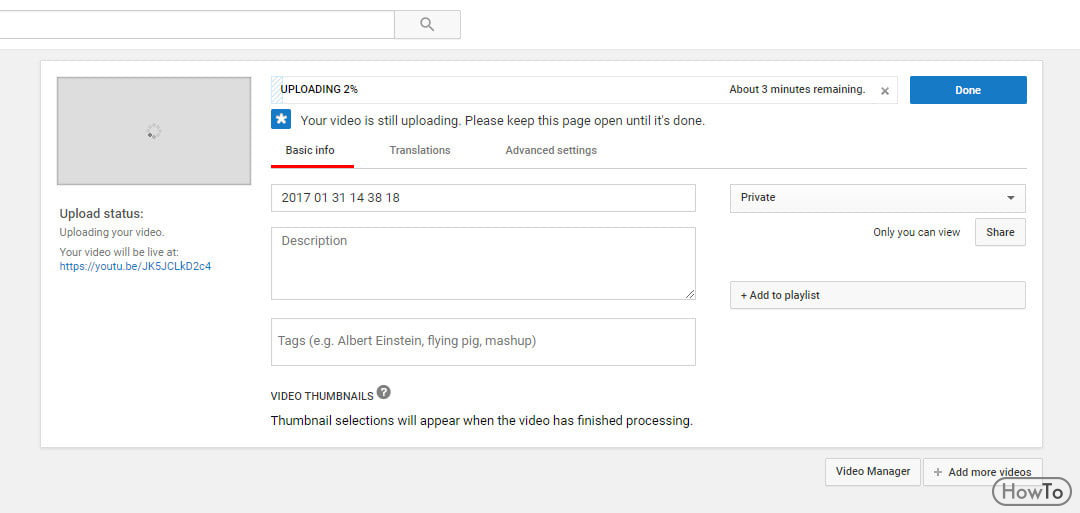 Be ready because once you have affirmed the video that you are going to upload, you will be taken back to the upload page. It has started and you will now see a progress bar which is at the top of your screen.
You can give a title and description of your video and any relevant tags.
You can also add the video to the playlist if you want and there is a proper button for it.
Advanced settings will let you control various aspects like category, and whether you permit ratings and comments.
Pick up a Thumbnail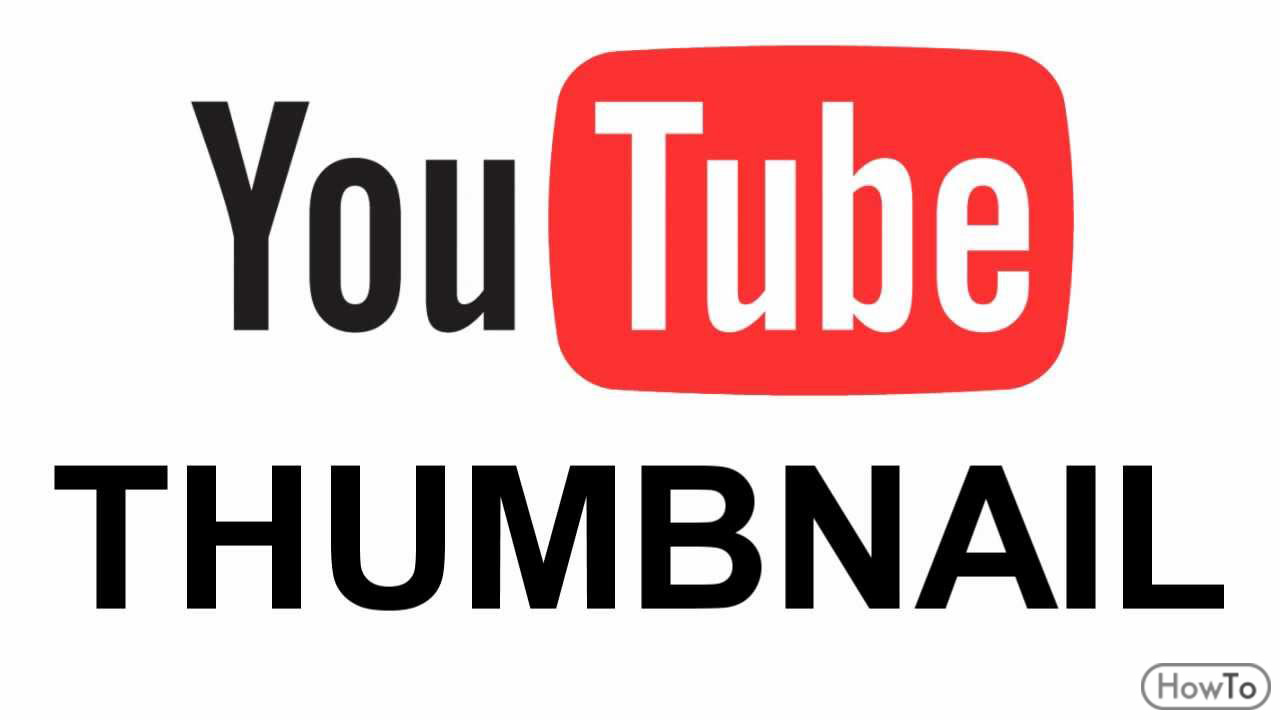 Unless you have your account verified, you can't get much creative with any thumbnail, but that will not stop you from making choice.
Once the video is totally uploaded and processed, you will get a choice among 3 thumbnails from the video from which you have to select.
Choose the favorite and then click the blue button of "Publish" or "Done" to finalize it.
If you desire to share the video privately, you can simply click the button "Share" on the right.
Choose One Thumbnail Picture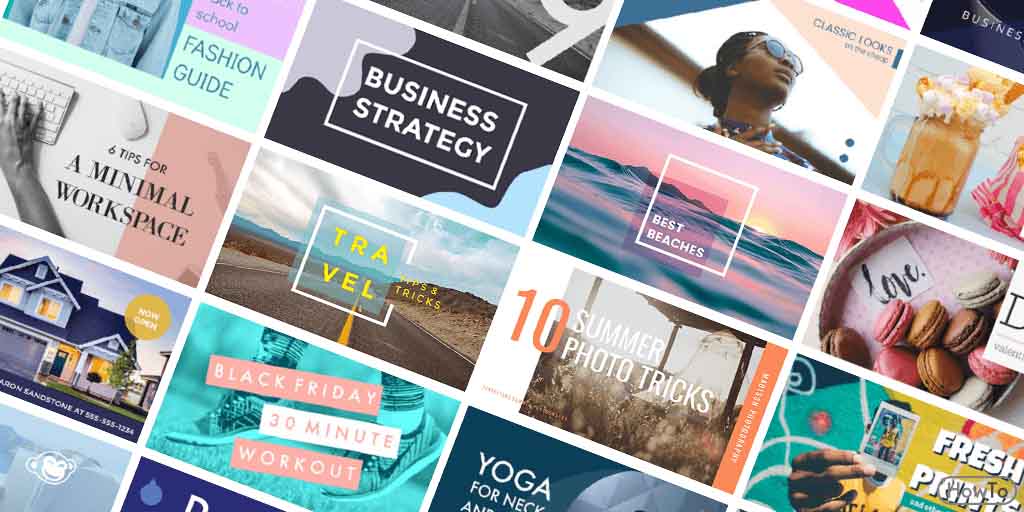 This photo is for the video which will let other users get an instant overview of what they may expect from the video. So, choose a thumbnail that will grab the attention of the viewers.
YouTube easily finds locations wherever the film stopped for a few seconds and then takes instant snapshots and lets you use any of these clipped images for the video.
Keep in mind that this is mandatory, but YouTube will help you out by particularly selecting the very first clip at the very beginning of the video.
If you want to change the thumbnail, then click one new image of the clip.
Video Management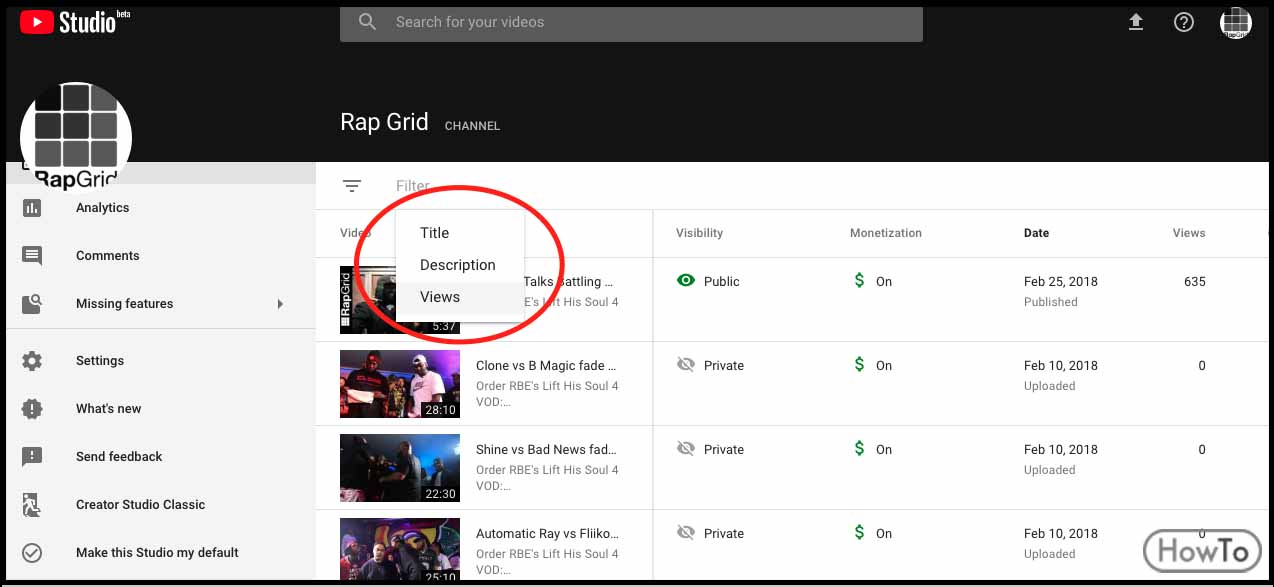 From here onwards, your video is publicly available on YouTube, it will depend on your preferences.
If you are thinking about making changes to the preferences in the near future, then you just have to go the option of "Creator Studio." Learn more about it by visiting this link – https://www.youtube.com/creators/.
By visiting that site, you will be able to view your videos and the number of views and also some other analytics from the channel.
Then, you can click on any of the individual videos that you want to edit, or you can click on the option of "Video Manager" which is on the left-hand side.
Save the Settings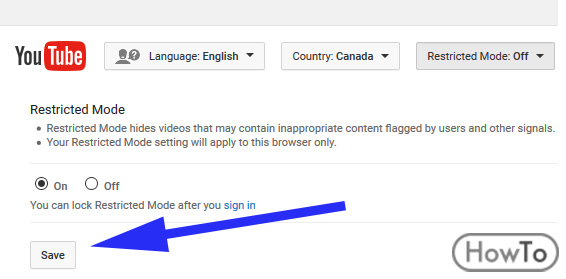 Saving these settings is of great importance, all the settings will have vanished and you will be required to do it again.
Hit on the "Save" button to save these changes.
Once the video is uploaded, you can implant it on your own website or even share it online.
Share the Videos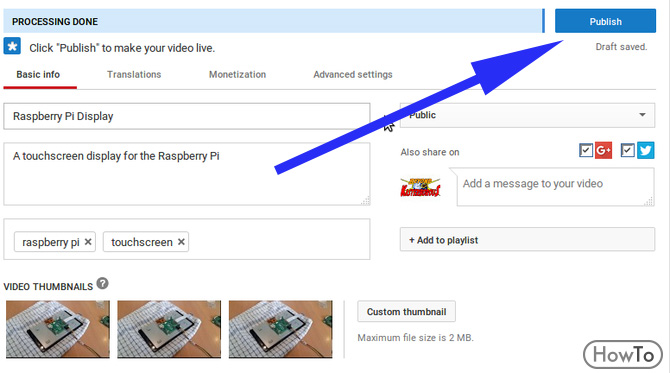 Once everything is done, it is time to make sure that your videos are also getting views. In order to get views, you can adopt various tactics to get them. One of the best is to share your videos as much as you can.
You can share the video on various platforms such as Facebook, Google+, or Twitter.
You can also send the video link to your acquaintances on WhatsApp, Hike or any other similar apps.
Check the box which is next to each of the service that you actually want to share with.
Make sure that the links which you are sharing are not incorrect otherwise all your labor will be a fiasco.
Choose to Monetize the Video

Apart from fun and pursuing their passion, people also choose YouTube to earn money. And if you are here to earn money, then make sure to monetize your video if you really want to make a good amount of money.
First of all, click the tab of "Monetization".
Thereafter, check the available "Monetize Box" to place some ads on your video. The more views your video will get the more will be the chance of earning money.
Keep in mind that it is optional to monetize the video (unless you are very popular the earned money won't be worth your viewers).
TIPS
Consider the recommendations of your audience if you want to increase your fanbase.
Answer to the questions of your viewers and try to go live to interact with them.
Source:
https://lifehacker.com/how-to-upload-videos-to-youtube-for-beginners-5804501
https://www.digitaltrends.com/web/how-to-upload-a-video-to-youtube-guide/
https://photofocus.com/software/how-to-post-your-video-to-youtube/
How do I upload a 2020 video to YouTube?
Why can't I upload videos on YouTube?
If your video won't upload to YouTube, it could be because of issues with available bandwidth on the network you're using. On other occasions, an extremely high volume of upload traffic by other users can delay or impede your video upload.
How do I share a YouTube video on my YouTube channel 2020?
Share videos
Start watching a video on youtube.com.
Under the video, click Share .
A panel will appear, presenting different sharing options: Social networks: Click on a social network icon (for example, Facebook, Twitter) to share the video there.
How do I copy and paste a YouTube video?
How do I copy and paste a YouTube link?
Can you add annotations to YouTube video?
Decide where in the video (at what time) you want to add an annotation. Click Add Annotation at the top right. Decide what kind — speech bubble, text, and so on.
How do you add annotations to a video?
How do I add a Subscribe button to my YouTube video?
What happened to annotations on YouTube?
YouTube annotations, those annoying translucent boxes that you rush to disable the moment they appear, will finally disappear for good on January 15th, 2019. Back in March 2017, YouTube announced that it would be discontinuing the annotations editor, effectively halting their use for any new videos.
How do you add annotations YouTube 2020?
How to add YouTube annotations:
Click on the video manager tab.
Click edit tab under the video screen shot you want to add the annotation on.
Click on the "End screen & Annotation" tab.
When did YouTube stop using annotations?
15. Google discontinued the annotations editor back in May 2017 after their use dropped by over 70 percent. Now annotations are set to disappear completely from all YouTube videos as we enter 2019.
How do I make an interactive YouTube video?
How can I create an interactive video?
How do I make an interactive video free?
PlayPosit is designed for K-corporate, flipped, and blended environments. Thinglink is a video engagement tool that makes it easy to add clickable tags to any video on the web and share the tagged videos on social networks. TouchCast is an integrated video platform for the creation and playback of interactive videos.
How do I make Intertas videos with Camtasia?
Can you add a clickable link to a Camtasia video?
The hotspot feature in Camtasia is an effect that is applied to visual objects, such as videos, images, and annotations. It makes objects "clickable," with a customizable action associated with the click.
How do you add hotspots to videos?
Add hotspots to a video
Click Play in the Video Player and Pause at the time you want to add a hotspot, or drag the Playhead to that point on the Timeline. Click the Add Hotspot button. This will create a hotspot in the top left of the player. Drag the hotspot to the position in the video frame where it is to appear.