How to Stop Windshield Cracks from Spreading
You are headed out of your house, get into the car, and start the engine. As you prepare to start the journey, you see it. The windshield is cracked!
This problem doesn't just appear from nowhere. They can happen even if you park your car far from the street. A change in sunlight or temperature can result in cracks. A poorly repaired or manufactured windscreen can crack under little pressure.
Furthermore, the windscreen can get damaged when hit by hails. Most people have fallen a victim to this frustrating interruption. However, this guide explains how to get rid of windshield cracks.
Assess The Extent Of The Crack
Begin by evaluating and inspecting the windshield to check the nature of the crack. You can make a personal decision whether you can fix the windshield crack personally. You can also take the car to the garage for replacements if the glass is beyond repair.
Make sure you prevent stressors like dirt, water, and other debris from getting inside the crack.  Use a clean tape to keep the crack lean on normal conditions, but it won't help when taking your vehicle to the car wash or while driving under severe weather conditions.
Always Take Precautionary Measures
In case the windshield got damaged due to extreme conditions or hail, placing the car back in such conditions may open up a wide door for similar damages. To get rid of this, you can place the car under a shade or park it in a garage if you have one. A garage is safer if you want to protect the screen from anything falling from the tree that might add damages.
When driving during the summer season, make sure you switch on the air conditioner to carefully transition your car to make it handle both cold and hot temperatures. Do this during the winter season too.
Hire a Professional
If you assessed the damage and realized that fixing it yourself won't stop the windshield crack, ensure you look for a professional to help you carry out the task. Never wait for long to repair the glass. Dealing with the windshield cracks immediately you spot them will save you more.
Bigger defects and cracks can greatly lower the windshield strength and limit your visibility while driving. Never wait until the crack enlarges as you can easily fix a smaller crack. If you keep on waiting, the crack can worsen to the point that it can't be replaced and you'll be forced to change the whole windshield.
Use Nail Polish
Many folks have reported success after using an acrylic bail polish to fix the windshield cracks. To use nail polish, start by cleaning the dust and dirt out of the crack. After that, rub on some small nail polish outside and inside the crack and other parts where you suspect the crack might spread. This helps you fix the glass together as you plan to visit a professional.
Remember that this method is a temporary fix and you must still take the windshield for inspection by an expert.
Buy a Windshield Repair Kit
To personally repair the kit, you must have a windshield repair kit purchased from a local automotive spares store. The kit comes with an adapter and a special resin that you can force in the crack. Additionally, the resin prevents further spreading of the crack, lowers stress on the glass, and protects the crack from any outside elements.
Make sure you drill a small hole with a 1/16-inch drill bit on one side of the crack via the upper side of the glass only. After that, force the resin on the seam.
Find A Super Glue To Repair The Glass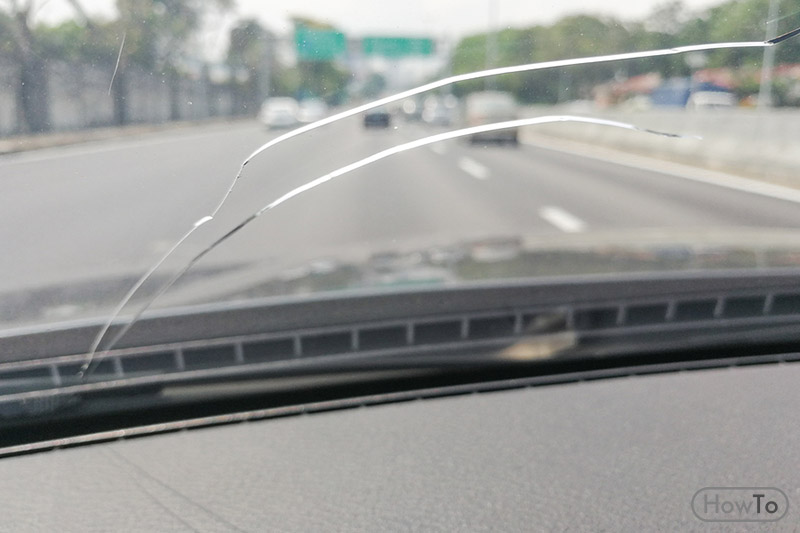 Rather than buying a repair kit, you can alternatively use a cyanoacrylate glue as super glue. Use this even when the crack is too small. Carefully apply it on the windshield or spread it uniformly on the scratch after scratching the glass.
The glue holds the two parts of the crack together though preventing the crack from expanding.
Seek Advice from an Expert
You can communicate with someone having experience in windshield repair. This person must have some knowledge, expertise, materials, and tools that he can use to repair the crack for some time.
The expert must contain the size of the windshield crack then make the problem a bit smaller than it was.
Dangers of a Chipped Windshield?
Flying objects can damage the windshield anytime you are driving. So even if your program is hectic, ensure you repair the cracked windshield immediately.
The temporary DIY recommendations listed here must give you some days to make an appointment then you can decide on looking for a cheap windshield repair rather than paying for the entire windshield replacement.
Will clear nail polish stop windshield crack?
Clear nail polish can fill the nooks and crannies of your small windshield chips and cracks and when it dries, helps to seal and protect it from the cold and elements that cause further cracking! Once that is dry, simply apply a thin layer of clear nail polish to the damaged area and let dry.
How fast does a windshield crack spread?
There may not be a specific length of time it takes for a crack to spread across the windshield, but the longer it's there the more likely it will grow. As soon as you notice the crack or chip, the best plan of action is to take it into an expert right away.
How do you stop a windscreen crack?
3 Methods to slow the spread of a windscreen crack
Use a windscreen repair kit. Windscreen repair kits such as a Ufixit Windscreen repair kit, can be purchased at any local Supercheap Auto, Repco or Autobahn for around $35 to $42.
Use superglue or clear nail polish (1 day fix)
Avoid extreme temperature changes.
How big of a crack can be repaired on a windshield?
Typically, a crack less than three inches long (or the length of the short side of a dollar bill) can be repaired by injecting the outer layer with a clear, curable resin. However, longer cracks increase the risk of the inner lamination becoming exposed, thus compromising the structural integrity of the windshield.
Can a 12 inch crack in windshield be repaired?
If the crack is less than 12 inches long, or if the chip is smaller than a quarter, the damage can typically be repaired without having to replace your windshield.
Can a badly cracked windshield be repaired?
Cracks at the edge of the windshield tend to spread very quickly and can compromise the structural integrity of the glass. If they're caught in time, they can be repaired. But in most cases, it's usually advisable to replace the windshield.
What happens if you don't fix a cracked windshield?
Though not an immediate danger, if the crack is large, near or touching the edge of the windshield, the glass may have to be replaced and driving the car is not recommended. Driving with a broken windshield should also be avoided whenever the damaged glass impairs the vision of the driver.
How much does it cost to repair a windshield crack?
Costs for windshield repairs vary by location, auto glass service provider and damage type. Typical prices range from $60 to $100 for a single chip, and discounts may apply when fixing additional chips on the same windshield. Crack repair prices are similar, although fixing a longer crack may cost $125 or more.
What household items can you use to fix a cracked windshield?
Grab Clear Nail Polish

If your windshield has a small chip or crack in it, you might be able to quickly fix it with clear nail polish. Crazy right? By using this household item you're already saving crazy amounts of money. All you need is a bottle of this stuff and a nail polish brush and you are good to go.
Do windshield repair kits really work?
If the crack or chip is smaller than the size of a quarter, a windshield repair kit can do the job just fine. A good-quality DIY kit will prevent a rock chip or crack from expanding but will not remove the damage, and correcting a cracked window is not very costly.
What is the best windshield repair kit?
Our Picks for Best Windshield Repair Kits
Rain-X Windshield Repair Kit.
Blue-Star Windshield Repair Kit.
Permatex Windshield Repair Kit.
ATG Windshield-FIX Full Repair Kit.
Mookis Windshield Repair Kit.
J-B Weld Windshield Repair Kit.
3M Windshield Repair Kit.
EWK Auto Windshield Repair Kit.
Does Gorilla Glue work on windshield?
Gorilla Glue is practically synonymous with quality superglue, and for good reason. This glue bonds well to glass, wood, foam, ceramic, and more. Gorilla Glue says that its formula creates a very strong bond that dries crystal clear.
Can you use super glue on windshield cracks?
Use Super Glue or Nail Polish as a Temporary Fix

These household products should only be used to stop a windshield crack from spreading if the crack is small. Superglue: Very gently apply the glue in an even layer over the crack. Wait for it to completely dry before using your car.
What is the best glue to use on glass?
For most common glass repairs, Loctite Glass Glue is the go-to choice. Loctite Glass Glue is great for use with all clear, colored, stained, and tinted glass types.
Is Loctite a glue?
Loctite Super Glue Professional has proven superior performance over ordinary super glues. It works faster and holds stronger on more surfaces than ordinary instant adhesives thanks to a patented additive. Loctite Super Glue Professional is resistant to moisture most chemicals and freezing temperatures.
Can you use a glue gun on glass?
Can you use a glue gun on glass? Yes – but there are a few things to consider before you do so. Firstly, you must ensure that the area of glass you are using the glue on is clean. Secondly, roughing the area of glass you are using with an abrasive material such as wet & dry paper will help the glue stick.
What is the strongest glue for plastic?
Best glue for hard plastics

For the strongest glue to use on harder plastics try Loctite Plastics Bonding System, a two-part cyanoacrylate adhesive. It's water-resistant, sets in seconds with minimal application, and dries clear.