How to Delete Twitter Account
Twitter is a social media network which helps you to share your thoughts, photos, videos and more and stay connected with celebrities, friends, community pages, groups, and more. If you do not want to use your Twitter account for some reasons, you can delete that with the following steps.
Delete Twitter Account on iPhone
Of course, Twitter keeps you connected with the society. If you want to take a break from all that sharing, having fun, and celebrating, you can obviously delete your Twitter account from your iPhone.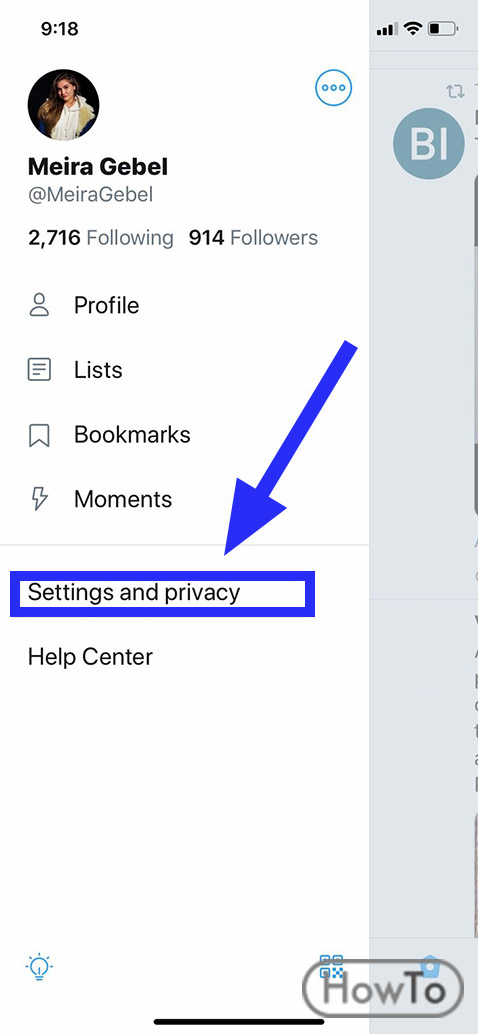 Choose the 'Settings' on your iPhone home screen. A drop-down list will appear. Scroll down the list to select 'Twitter'.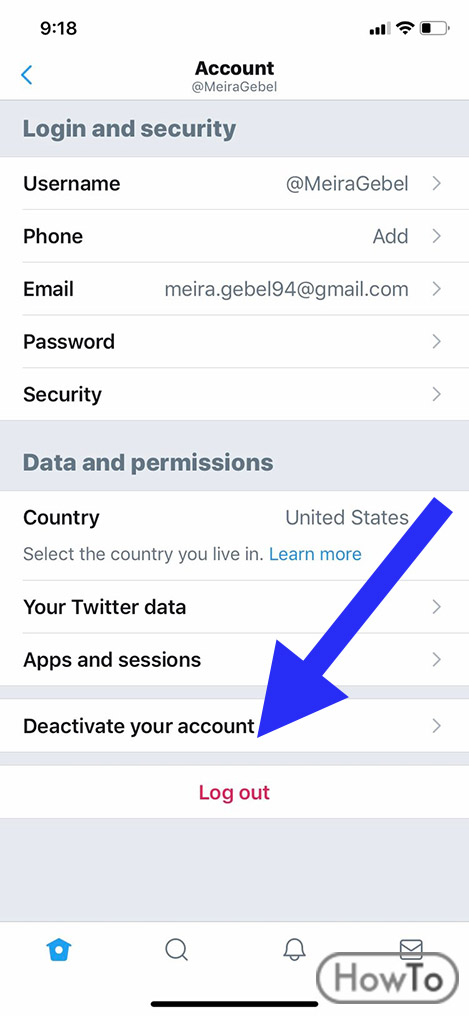 Tap on the 'Twitter' icon to open the menu. Now, choose the account you wish to delete by tapping the account name.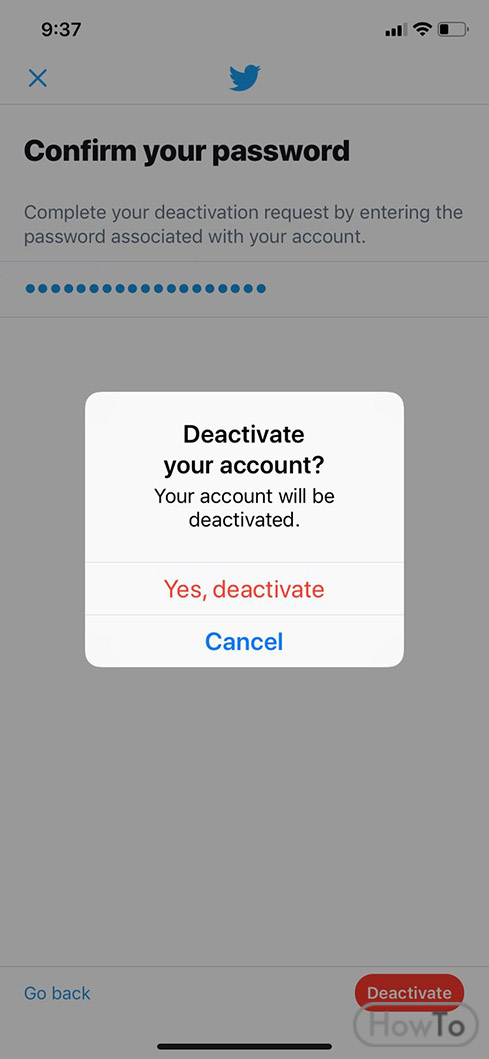 You can find delete account on the bottom of the screen, click that. Confirm that you want to delete the account in the pop-up window. Close the settings menu.
Delete Twitter Account on Computer
You can delete your Twitter account whenever you want. Once you have taken the decision to delete your Twitter account from your computer, just follow the below steps.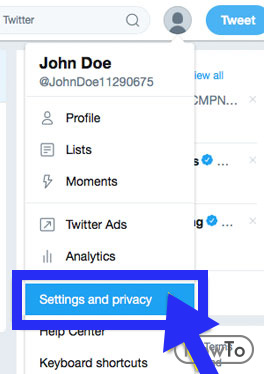 Open the browser and visit the official site of Twitter.

You must remember that you cannot delete your Twitter account (https://help.twitter.com/en/managing-your-account/how-to-deactivate-twitter-account) through the Twitter app. Instead, you must do it through the browser.
'Log-In' to your Twitter account. Click your 'Profile Picture'. Then click 'Settings', which will take you to the settings page.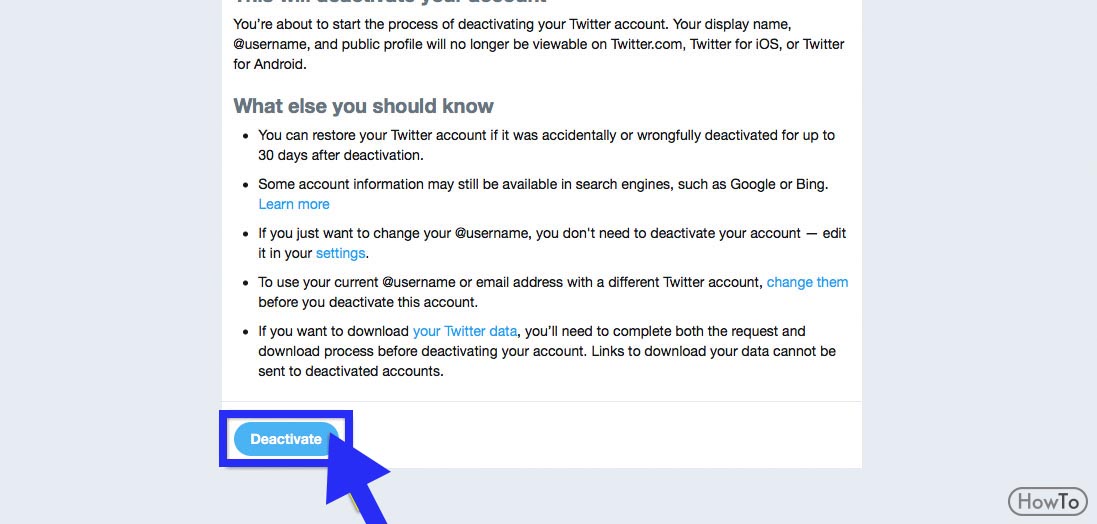 Select 'Settings and Privacy'. Choose 'Deactivate my Account'. Choose 'Deactivate @ Username' and then key in your Twitter password.
This will help Twitter to confirm that you definitely want to delete an account and secure your account from being deleted as an accident or even as a prank.
Delete Twitter Account on Android
Twitter can be informative, useful and up-to-date, but on the other hand, you may think that it is occupying too much of your time. If you do not want to waste the time you spend on Twitter, you can decide to delete your Twitter account.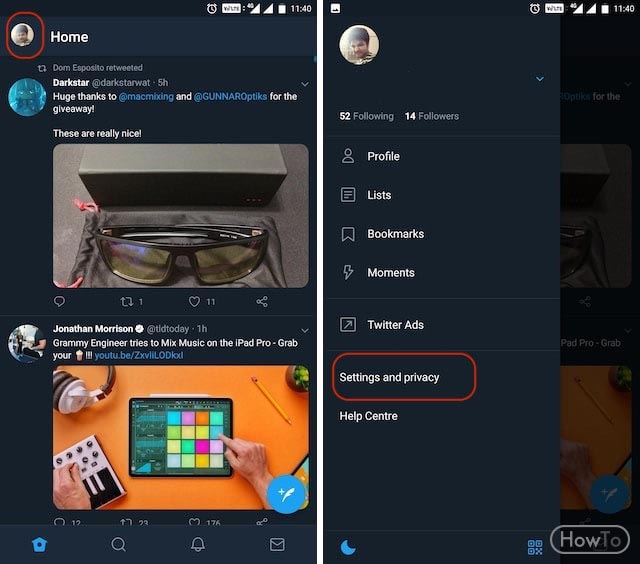 Go to 'Twitter' and 'Log-In' with your credentials. Tap the hamburger icon or your profile picture.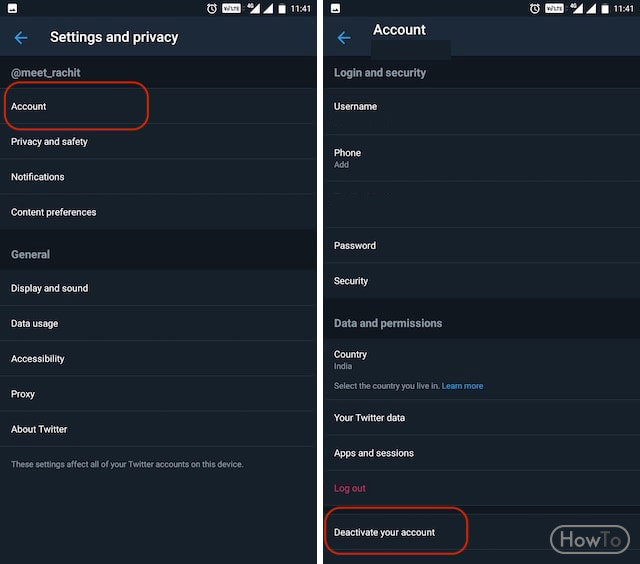 Tap 'Account'> 'Settings' and 'Privacy Menu'. Tap on 'Deactivate Your Account' option. Tap 'Deactivate'.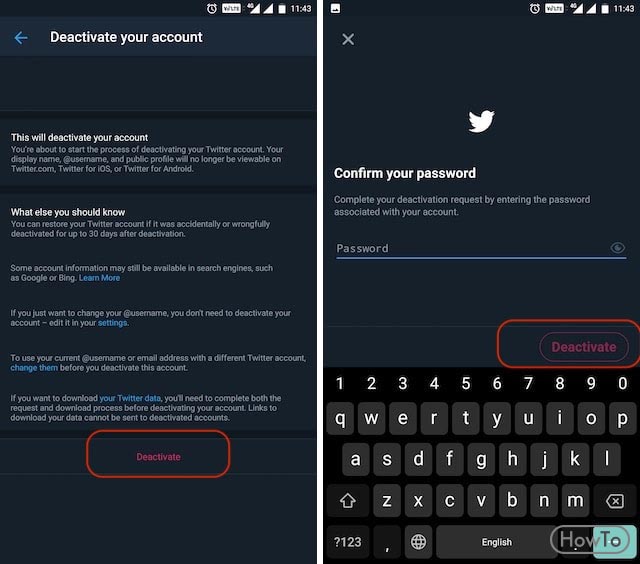 Enter your password on the pop-up window and tap yes, deactivate.
Delete Twitter Account Permanently
Once you have decided to delete your Twitter account, you must keep a point in mind that, Twitter will never offer a temporary delete, but instead, it will give you a month's time to decide about getting back to Twitter. If the period is over, your account will be deleted permanently.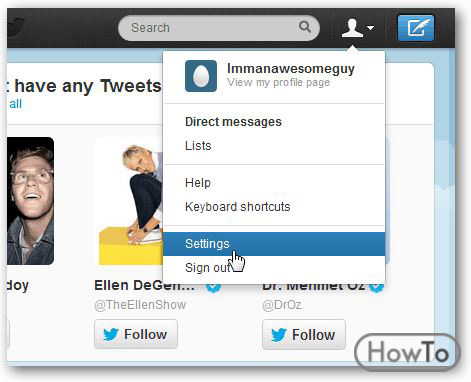 As usual, navigate to Twitter site and 'Sign-In' into your account. Tap on your 'Profile Photo'.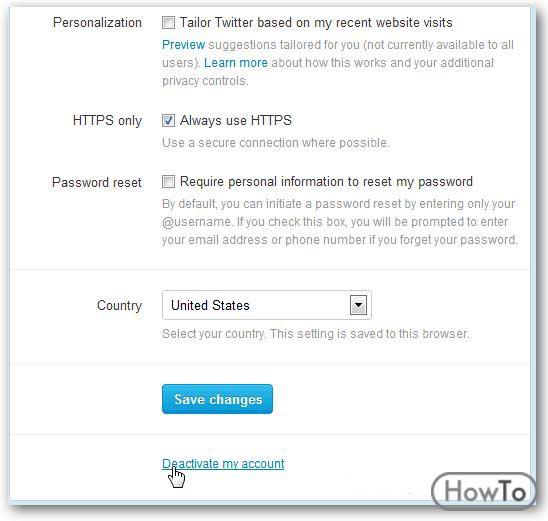 Tap on the account and then to 'Settings' and 'Privacy'. Click 'Deactivate Your Account' option. Confirm your deactivation when prompted.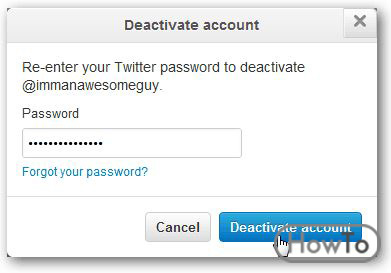 Wait for one month to pass. Twitter will retain your user data for 30 days.

Once the grace period is over, Twitter will start deleting your data from its database. Once that is done, your account will be deleted forever.
Delete Twitter Account for Good
Twitter will offer you many good reasons to cherish for your lifetime, but at the same time, it takes more time from you and may keep you less focused on other things. If you do not want to be addicted to Twitter, you can delete your Twitter account.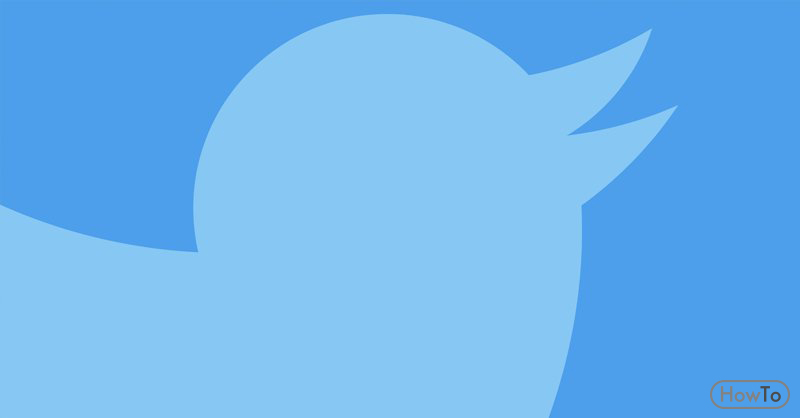 Visit Twitter site and 'Sign-In' into your account with your username and password.
Choose your Twitter icon. Click the 'Account' tab. Click 'Setting's and 'Privacy' tab.
Choose 'Deactivate Your Account'. Confirm it again when prompted. Wait for 30 days. Your account will be deleted as soon as 30 days are completed.
TIPS
Make sure you precisely follow the above-mentioned steps to delete or deactivate your Twitter account with all ease and comfort.
Source:
https://www.trustedreviews.com/how-to/delete-Twitter-account-2951623
https://www.expressvpn.com/internet-privacy/how-to-permanently-delete-your-Twitter-account/
https://www.digitaltrends.com/social-media/how-to-delete-your-Twitter-account/
How do I permanently delete a twitter account?
Tap the navigation menu icon , then tap Settings and privacy.
Tap Your account, then tap Deactivate your account.
Read the account deactivation information, then tap Deactivate.
Enter your password when prompted and tap Deactivate.
Confirm that you want to proceed by tapping Yes, deactivate.
Is deactivating twitter the same as deleting?
Is deactivating the same as deleting? No. Think of deactivating your account as a way to signal to Twitter that they should delete it. Within minutes of you deactivating it, Twitter will remove your data from their website and place your account in a queue for permanent deletion.
How do I permanently delete my account?
Just go to their delete account page, enter your user ID/nickname and password, and click on "Delete Account". That's it! Account deletions are permanent, so make sure you really want to delete your account before clicking that "Delete Account" button.
Why is it so hard to delete accounts?
The other major reason that social networks make it hard for you to delete your accounts is that they just don't want you to go. Most social networks' business models are reliant on having large numbers of users. While active users are prized over inactive ones, an inactive user is better than no user.
How do I delete my PiggyVest account?
How To Delete A PiggyVest Account
Login to the email account you used in registering for your PiggyVest account.
Create an email stating you want your PiggyVest account to be cancelled, deleted or deactivated.
Make the subject title of your email "Request To Delete PiggyVest Account"
Send the email to [email protected]
How much interest does PiggyVest give?
PiggyVest helps over 2 million customers achieve their financial goals by helping them save and invest with ease. Earn 5% – 15% interests on savings and over 25% return on investments.
Can I have 2 PiggyVest account?
Some of the things we ensure are: Users can't use the same debit cards on 2 different PiggyVest accounts — this means we are able to account for one user per time and no one person's debit card is used elsewhere without their notice.
Can I break my Safelock on PiggyVest?
The Safelock feature was designed for you to lock money until the day you set for withdrawal. This feature is best if you do not trust your spending habit. Once you lock money in the Piggyvest Safelock feature, you cannot withdraw from it until the day you set for withdrawal.
Is PiggyVest legit and safe?
Is Piggyvest Legit and safe? Piggyvest is a safe and legit platform for saving and investing in Nigeria. Your money and personal data are safe and secure. We use only the highest levels of Banking Security, secured by 256 bits SSL security encryption, to ensure that your information is completely protected and secure.
Can I withdraw all my money from PiggyVest?
You can withdraw for FREE only on set Withdrawal dates. You can set your own FREE withdrawal day OR you can use Piggybank's 4 fixed FREE withdrawal dates every year. After the request has been made, funds will be sent back to your Flex Account instantly and then you can withdraw to your set bank account anytime.
Which is better Cowrywise or PiggyVest?
Both offer savings and investment features, but one is better suited for savings and the other for investment. Piggyvest is better for saving because primarily, it is seen as a savings app. Also, its flexible withdrawal system makes it easy to access your savings in the case of emergencies.
Is it safe to put your BVN on Piggyvest?
In addition to regulatory requirements, adding your BVN adds an extra layer of security on your funds and transactions, it also unlocks more features on your Piggyvest account. To get the most out of Piggyvest, we advise you to add your BVN.
How true is Piggyvest?
PiggyVest on Twitter: "We are 100% legit.… "
Is Piggyvest approved by NDIC?
100%. We operate as an MFB regulated by the CBN and funds insured by the NDIC.
Who is the owner of PiggyVest?
Odunayo Eweniyi is Co-founder and COO of PiggyVest. She previously cofounded pushcv.com, one of the largest job sites in Africa with the largest database of prescreened candidates.
How legit is Cowrywise?
How safe is it? Cowrywise is a legit platform headquartered in Lagos, Nigeria and has thousands of users using it every day in Nigeria. This platform secures its user's funds with Meristem Trustees via a trustee Agreement. The role of Meristem Trustee is to ensure that your funds are 100% secured.
What is CBN salary?
The Central Bank pays its entry-level staff a monthly salary of N122,000 per month. This is an equivalent of N1,464,000 per year.
What is the salary of level 8 in Nigeria?
As a level 8 police officer, your basic salary may vary per position and you are expected to earn a minimum of N128, 000 (for a step 1 level 8 staff). For a level 8 step 10 police officer (assistant superintendent), you can expect about N144, 000 per month.