Want to become a travel agent? Well, we must have had you in mind. As the global Tourism and Travel industry continues to grow explosively, travel agent jobs become hotcake in the market. If you enjoy spending time online researching for holidays and iconic travel destinations, then this might be your perfect job.
What does it really entail? You may ask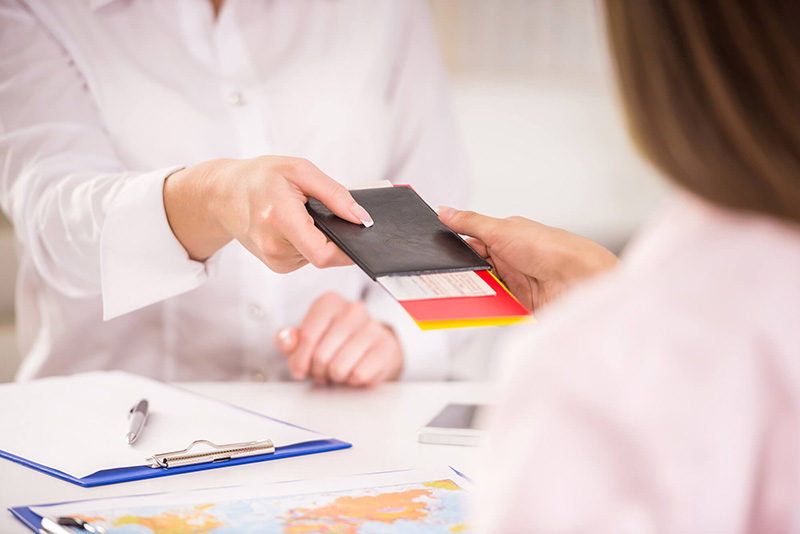 Perhaps you've heard of it many times over the media and want to know more or feel passionate about becoming one. Well, we've got you covered.
Typically, your duties as a travel agent would include:
Using your knowledge and creativity to help customers get the best holiday package based on their budget or plan their independent travel.
To confirm the availability of the flights, cruises, and accommodation for the chosen holiday. This can be done using computers or phone calls.
Booking holidays, transfers, excursions, and perhaps any additional ticket for your clients using computer systems.
Collecting their deposits and feeding in the booking forms
Discussing travel arrangements with the customers. Also, you will advise the customers on passports and visas, travel insurance, vehicle hire, vaccinations they should get, and perhaps the incubation period needed.
Getting back to the customers when their tickets are out and letting them make final payments.
To keep the customers informed of any changes as well as the alternative measures.
With the knowledge of the above duties of a travel agent, you can have a rough idea of what it will be like.
Well, let's now get to self-assessment. For you to be a successful travel agent, you should have the following attributes.
Be passionate about travel
Flexible and highly adaptable
An outgoing personality
Patience and diplomacy
High problem-solving skills
Tech savviness
With the above knowledge of the information above, we can now jump into the steps that you can follow to become a travel agent.
How to Become a Travel Agent Step-By-Step
If you're looking for how to earn a colossal amount of money as a part-time or full-time travel agent, the following steps are significant to go.
Research the travel and tourism industry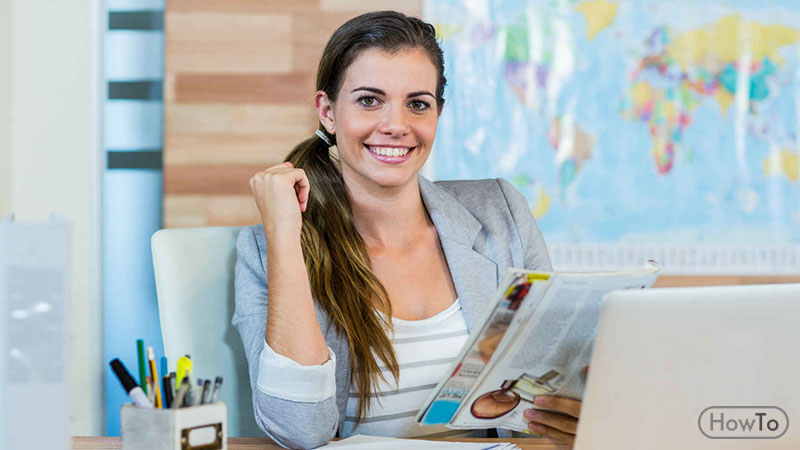 Every industry has got its ups and downs. Therefore, you should research widely on the challenges facing the tour and travel industry so that you can be informed before becoming a travel agent.
Also research the career opportunities of a travel agent, challenges of being a travel agent as well as the potential income before you jump into training.
Decide on the type of travel agent you want to become
There are different types of travel agent job. Therefore, knowing precisely what you want to make it even easier to choose the learning path.
Also, it can mean specializing in a particular area of the world and familiarizing yourself with the predominant cultures as well as travel destinations.
For instance, if you're interested in being a travel agent for those customers who're thrifty on their vacations, then you'd need a great understanding of budgeting. Also, you'll need to be well aware of the where specifically to find savvy deals.
Based on the duties you'd wish to perform, you can decide to be either a corporate travel agent or leisure travel agent.
Corporate travel agent: As a corporate travel agent, you'll be tasked with making arrangements for various businesses as well as for the employees who want to attend conferences abroad.
Leisure travel agent: As a leisure travel agent, you will be tasked with most of the commonly known task of a travel agent. Your duty will be much of selling vacation packages to groups, families, and individuals.
Get relevant education or training
Generally, having a high school diploma is considered the base requirement for getting into the travel industry before getting appropriate travel agent training.
Even though a degree isn't an essential requirement for those looking forward to becoming travel agents, it can provide a competitive advantage.
And that's why having a relevant bachelor's degree can be a great way to break into the travel and tourism industry as a travel agent.
Having a prior background in customer services and sales can also be of significant advantage when you walk into any travel agency.
Since there is no specific course that directly deals a hundred per cent with travel agent job, taking a course in the relevant field is essential. Some of the highly relevant areas include:
Travel
Tourism
Business
Economics
Business administration
Hospitality
Besides that, you can take a course in travel planning. This will provide you with new knowledge that is more focused on your site.
In addition to that, this course does not only makes you a prime candidate in any travel agency you step into but also equips you with the necessary knowledge for starting your agency.
Since paying for a 4-years bachelor's degree may at a time be costly for you to afford at your first, you can check out the community vocational schools, colleges, and industry associations to start your career.
Principally, the course should be centered on travel regulations, reservation systems, and marketing.
Get business license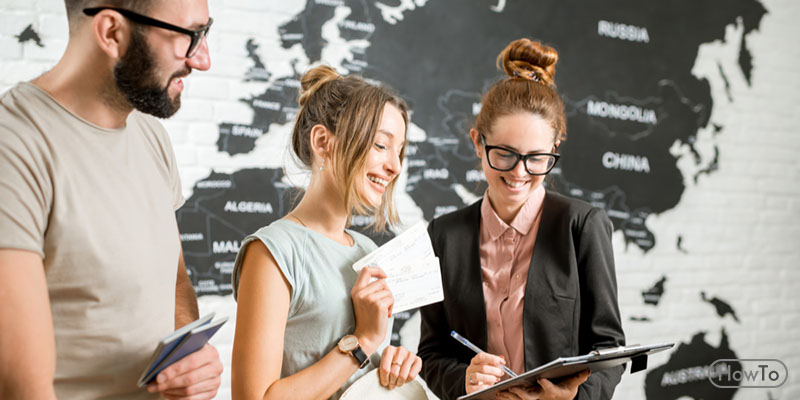 Depending on the geographic area you're located, and the location of your business set up, you need a permit to serve your customers legally. If you're hosted, you can use your host's permission.
Even if you're living in an area that isn't strict on having a license and planning sell holidays to the residents, you should make efforts to acquiring one.
Depending on your country of residence, the laws might be strict on travel agent license, loose, or no specific legislation.
For instance, only six states out of 50 American countries have a strict seller of travel law, with California law leading in strictness and complexity.
Other states include Washington, Florida, Lowa, Hawaii, and Nevada. Unlike the six states, Delaware and Louisiana have loose restrictions on new agencies.
However, if you're looking for how to become a travel agent in Ontario, Canada, you must take another examination with the Travel Industry Council of Ontario (TICO).
Upon passing the TICO exams, you will work in any TICO registered travel agency and offer services and advice to the public.
Get the necessary skills and know-how
After going through the training, the next most important things are personality, knowledge, and other supportive skills. Therefore, to be a successful travel agent, you should:
Develop the required character: You should be worldly, confident, outgoing, and a great networker. Besides that, be adventurous, have excellent communication skills, be detailed, get organized, and make connections. These would help you get more clients and earn handsome pay.
Be well-traveled
Since customers are interested in a first-hand account, you should be well-traveled to advise customers based on the first-hand experience.
You must have visited the geographic areas to give explicit suggestions about the services as well as the accommodations.
Know at least one or two foreign languages.
Being able to speak at least two foreign languages is invaluable. It will help you in communicating with your clients more like one of their own.
As such, it's easy to build trust with them.
Specialize in a destination
If you're looking to getting established pretty quickly in this industry, you should specialize in a specific area or geographic location.
Therefore, you can choose the region that appeals to you. By doing so, you will gain a more in-depth insight, vast experience, and valuable information about the area.
Based on the areas of specialization, some specialties could include specific types of travel, such as air travel, cruises, or tour groups.
Those who specialize in price-focused tours could include affordable or luxury vacations, while others concentrate on hobby-based travels.
Choose your work environment
After getting well equipped, you can decide on whether to work on your own under a hosting company or brick and mortar.
However, thorough research is advised to ensure that you get into a work environment that fits your ambitions.
I identify a travel agency of your interest and apply from an opportunity
When ready to jump into your dream job, you can find a travel agency that impresses you and ask for a chance.
Even though most of the travel agencies require you to have many years of experience, you can still break into the industry.
How can that be done? Well, it's pretty simple. Start by serving in lower capacity posts such as receptionist or assistant. After that, you can move up the ranks and get to your dream job.
Sounds great? Well, take a leap of faith and grab any opportunity that may lead to your dream job (travel agent).
Start networking and let people know of the services you offer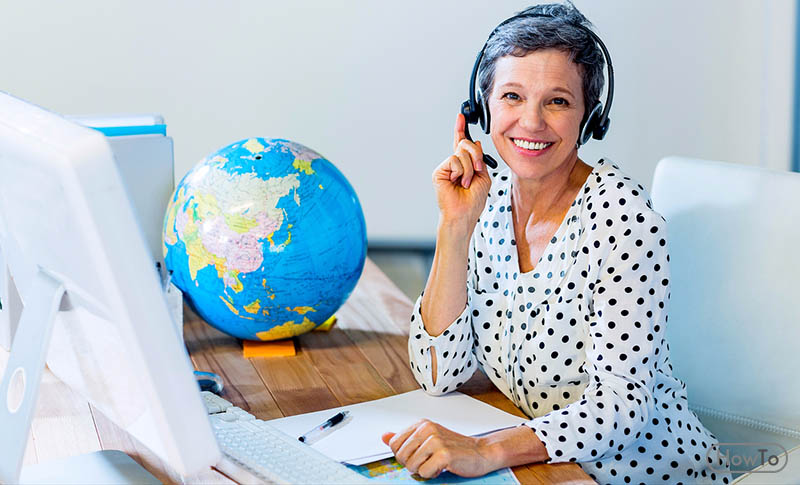 Whether you're working from your office or home, letting people know you're on the ground is essential.
Besides that, you should research your field and start making amazing offers. To make this work great, you should join a referral service with other agents who can send customers your way. And in return, you can also refer clients to their specialty.
Join a professional organization within your niche
One of the quickest ways to get gain ground and hone your skills is by joining a travel organization. This can help you learn from the professionals.
Furthermore, you will also enjoy their support, further education and training, networking, resources, and travel tool.
In addition to that, you can also enjoy publication access, evaluation of services, invitations to seminars, summits, salary tools, and scholarships for advancement.
And on top of that, the organizations will also allow you to access job boards as well as the travel directories.
Note: Whether you want to become a travel agent in Ohio or want to become a travel agent in UK, Texas, Kenya, or in NC, the above steps are handy.
How to Become A Travel Agent Online
Are you looking for how to become a travel agent at home? If so, then becoming an online travel agent can be a perfect career for your dream. By being an online travel agent, you will be selling travel packages and deals to your customers on your website. If you'd wish to work in the travel industry from the comfort of your home, then this is one of the jobs that can suit you. Below are the steps to get you started.
Carry out a research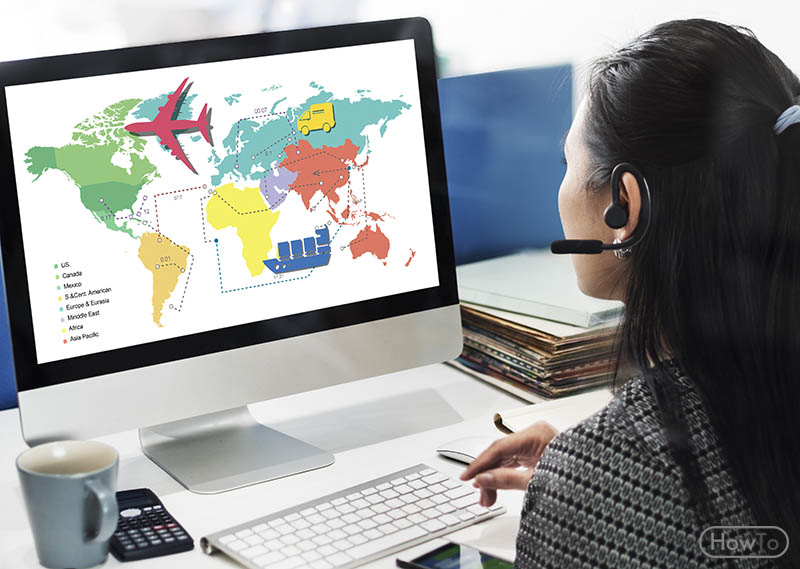 Researching on the travel and tourism industry can be a great way to launch your journey of becoming a travel professional. As such, you will be able to better understand the expectation as well as the requirement for the job. Apart from that, you can also find the challenges and benefits of working as a travel agent. Also, you can find out which type of travel agent you would want and how much you could be paid for your services.
Determine your area of specialization
There are two types of travel agents that you can choose from. You can want to be either a corporate or leisure agent.
Leisure travel agent: Consulting the customers and booking personal or family vacations.
Corporate travel agent: Books travels, seminars, and summits for business organizations.
With the two types of travel agent jobs highlighted above, you can decide on your specialty. However, you still need to narrow down to ensure you reach specific customers.
For instance, if you choose to be a leisure travel agent, you can also streamline your job according to themes (romantic or adventurous ), destination, as well as the budget of your clientele.
Determine the destination for your interests
Passion for becoming a travel agent is one of the ingredients you need for your success. And therefore, you should focus on the areas that you find fascinating.
To make things work better, you should first outline your interests and then pair them with the specific destinations that match their interests.
Analyze your client base
Knowing much about your client support can get your gain ground pretty quickly. As such, you would have a picture of the people who would like to travel to your specialty destination.
Besides that, it's also important to consider your travel packages and how much you prospect your customers to spend.
You can do this by getting in touch with other travel agents and request quotes. Also, you can find out about the latest prices for traveling to your chosen.
After that, use the price information to find out the income your customers would need to pay for your travel packages.
Moreover, you should also factor in the age restrictions that can probably reduce the number of customers.
Create a budget for your business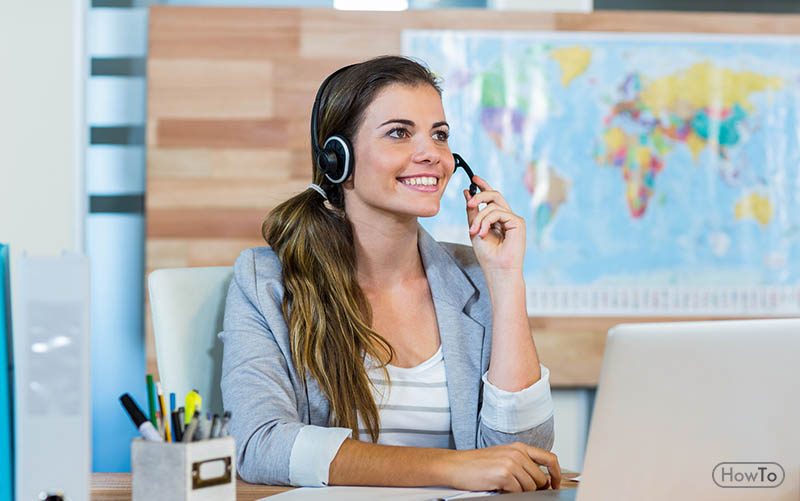 After understanding your clientele base, the next crucial step is to set aside the money to foot up the cost for your online business.
Some of the items you'll need include but not limited to a computer, website, internet access, and a fax machine.
Also, you should be prepared to pay for other training and certifications, as well as the fee for registering a business.
Create a name for your online business
When it comes to choosing the name of your business, you should choose a short and easy to remember the name. This will make it easy for your customers to master it effortlessly.
Also, the name should be unique to stand out in tons of content on the search result page. Besides that, ensure that your name embeds your specialty and your geotargeted area.
And above all, you should optimize your site for it to rank high in the search engines.
Get your business registered
Having created your business name, you can consult a lawyer or a tax accountant on the best category that fits your business. However, most of the small companies tend to fall under the sole proprietorship.
You can also find out from your lawyer on other licenses you may require to run the business in your country without hiccups.
Create a bank account for your business finances
When you've registered business, you must open a bank account for your business and avoid mixing your business funds with personal finances.
This would help you to keep track of your company's expenditures. If your new business requires a credit card, you can apply for one to keep your finances organized.
Even though this step might not be all that necessary, it will keep your business more professional and organized.
Promote your business across the social platforms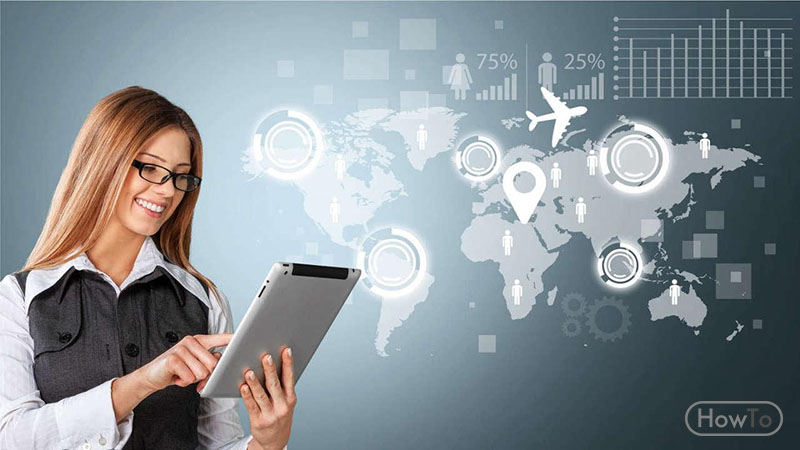 With your business now established, you should now review your contacts to find people who can help you promote your business.
In addition to that, consider engaging all categories of people, whether family, friends, neighbors, friends of friends, schoolmates, and co-workers.
Also, you can use social media such as Twitter and Facebook to popularize your business and share your business website links.
You can also ask your friends to like and share your posts to maximize your visibility. Moreover, you can also encourage your followers to refer potential clients and 'return the favor' through gifts.
Join a host agency
Even though you can start your travel agency, remember you need somewhere to grow and hone your skills. Therefore, it's recommended to start as a contractor to a reputable agency.
While serving as a contractor to an organization, you will gain more experience and insight into what you need to establish a successful business.
In addition to that, the organization will provide community support, training, and lower overhead. Sounds awesome? Well, it now your turn to act.
Do travel agents make good money?
The BLS currently lists the average travel agent salary in 2019 as $44,690 with a range of $23,360 and $69,420 dividing the lower to upper 10% of travel agents. These results are similar to our most recent income report. We found an average income of $44,312 for hosted travel agents with 3+ years experience.
How are travel agents paid?
Generally, leisure travel agencies' main revenue is from commissions vendors pay on vacation packages, cruises, air and other add-ons. However, consultation fees and service fees are becoming more common as agencies try to diversify income sources to become less dependent on supplier commissions.
Is becoming a travel agent worth it?
If you love traveling or helping people fulfill their travel dreams, becoming a travel agent might be an excellent option. Nowadays, we all want a job that is flexible enough to save you some you-time while still promising financial stability. Even with all the benefits, it's not always an-all-rosy career.
How long does it take to become a certified travel agent?
The very minimum professional certification a travel agent can attain is the Certified Travel Associate (CTA). This can be earned after 18 months of travel industry experience. You cannot become "certified" with them until you have been on the job for at least a year and a half, studied for and passed a rigorous exam.
Do travel agents travel for free?
In truth, most of the time, travel agents don't get free travel although they sometimes get discounts or a chance to keep the commission they would get on their own travel plans. Convention properties give them a cheaper trip to let them learn about their property on a working vacation.
Can I be a travel agent with no experience?
Learning how to become a travel agent is simple with our organization. You can become a Dream Vacations franchise owner with no prior experience or education. We provide full training and support to help every one of our franchise owners have success. No specific degree or training is required beforehand.
How do I become a freelance travel agent?
How to Start a Successful Independent Travel Agency
Connect with a Host Agency. One of the best tips is to connect with a host agency to begin a career as an independent travel agent.
Make Sure You Get the Necessary Training.
Develop a Niche Market.
Become the Expert.
Give Your Customers the Service You Want for Yourself.
Is travel agent a dying job?
And lastly, travel agents are not a dying breed.

The answer: Yes, and we still account for one-third of all travel booked in the United States," insists O'Shaughnessy. It's still a profitable industry in the United States and there's no reason to believe the industry is dying off.
Is now a good time to become a travel agent?
New travel entrepreneurs have a lot of decisions to make which takes time and that is why it is good to start now. Online travel agencies or OTA's have received a lot of negative press while travel advisors have received praise for their handling of this pandemic. "The travel industry is coming back," she said.
How much do travel agents make per booking?
Some offer a meager $2 per reservation (regardless of value), while others based on incentives and productivity will pay commissions as high as 20%. Across the board the average commissions are 3% for Internet bookings, 3-5% on promotional rental rates and 10% on leisure rates booked through GDS distribution channels.
How much is a travel agent fee?
Many agents also charge clients a fee that's separate from trip expenses, and that may range from $100 to $500 and up. That fee can be charged up front as a security deposit and can either be returned to you at the end of the planning process or, more commonly, applied to the cost of the trip itself.
Is it cheaper to hire a travel agent?
Seaton says booking through a travel agent typically won't cost you more. She says while some agents will charge you a nominal planning fee, many agencies like hers do not charge anything extra for their services. She did say they sometimes charge a fee if it's for a major complex trip with extensive planning.
Do I have to pay a travel agent?
Travel agent fees and discounts

Many travel agents do not charge a fee to their clients for planning standard vacations; they earn money from commissions paid to them through partner vendors. "The only time there may be a fee is if I am booking direct airfare only," he explains.
What's better travel agent or do it yourself?
When you plan it, you have the chance to cut some costs or to opt for cheaper things. At the end of the day, a DIY can cost less than an agency package. More information and knowledge about the places that you will visit. Planning the trip by yourself will increase your knowledge about the places that you will visit.