Ubuntu is an open-source operating system, Ubuntu provides a simple and easy graphical user interface, it is easy to install and also easy to use. The Ubuntu-based on Linux Open Source Kernel, therefore it provides a better platform for running home and enterprise, school, university, and organizational tools and software's. The Ubuntu is secure and anyone can download it freely.
How to Install Ubuntu from USB or DVD Drive
In this article, we will discuss the Ubuntu installation on your PC from DVD drive or Bootable USB drive.
Pre-Requirements
Before installation of Ubuntu on your PC you need to point some instructions:
It's better to connect your PC or Laptop with the power source.
Make a free space up to ( 30 to 40 ) GB for Ubuntu operating system, SWAP area, and your home storage.
Make sure you have and Bootable USB flash drive or DUD drive with the Ubuntu version that you want to install.
It's a very important note, make sure about your backup data. During the Ubuntu installation, a little mistake may be lost your data.
Let's enjoy the installation of Ubuntu.
Insert Bootable USB Flash Drive with PC or Laptop
Insert the bootable USB drive with your PC or laptop and restart your laptop or power on your laptop. Some computers automatically show the bootable devices.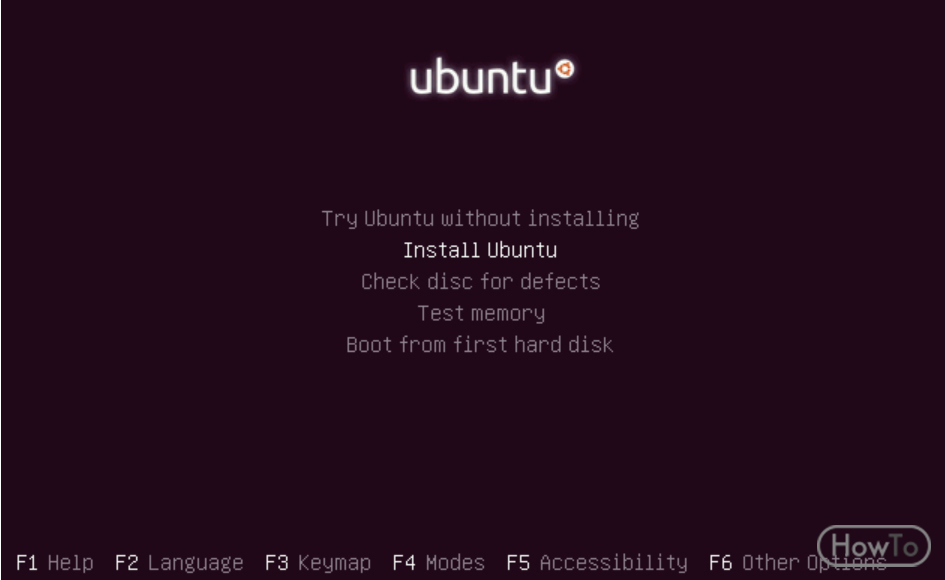 A window will appear like this. The keyboard arrow key's you can up or down your selection. Select " Install Ubuntu " option and press Enter.
If your computer, not open boot menu automatically, then press F12 in case of Dell systems, press a small button on your laptop left side in case Lenovo systems, and press F9 in case of Intel and so on.
Preparation Steps for Installing Ubuntu
After selecting " Install Ubuntu " from the boot menu, select the keyboard layout. Otherwise, select the default keyboard layout option. Bootloader automatically will " Detect Keyboard Layout " and run the procedure and press Continue.
Now you have a new window like this: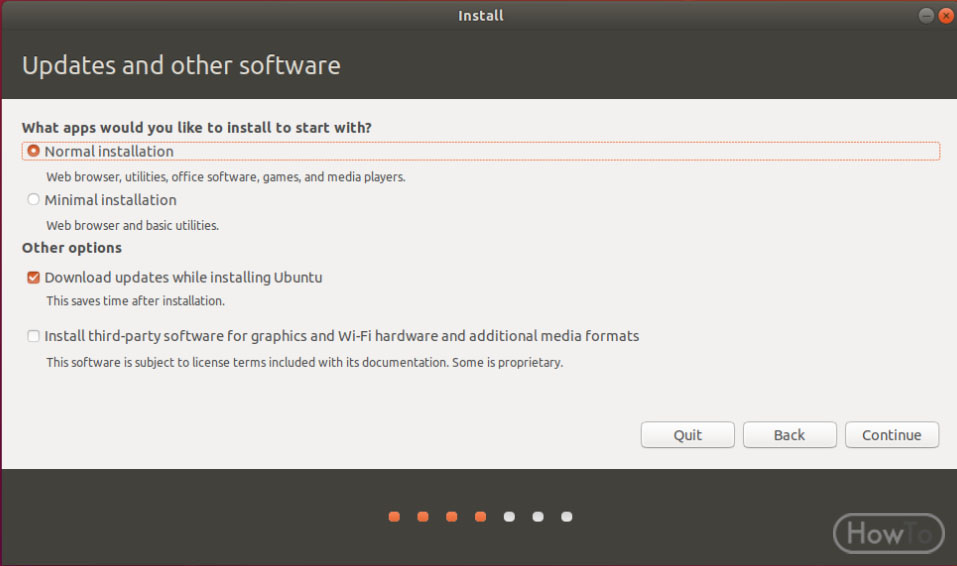 In this image, there is three option for installing packages and software's and also third party Software's. If you have a good internet connection I suggest select three options ( Normal installation, Download updates while installing Ubuntu and Install third-party software for graphics and Wi-Fi hardware and additional media formats ). With these options, you will install automatically latest version of software's with Ubuntu. And press the continue button.
If you have not internet connection then just select " Normal installation " option and press continue button.
Space Allocation for Ubuntu
New users of Ubuntu lost their data at this point, it is a very critical point. Here are two main checkboxes " Erase disk and install Ubuntu " and " Something else ".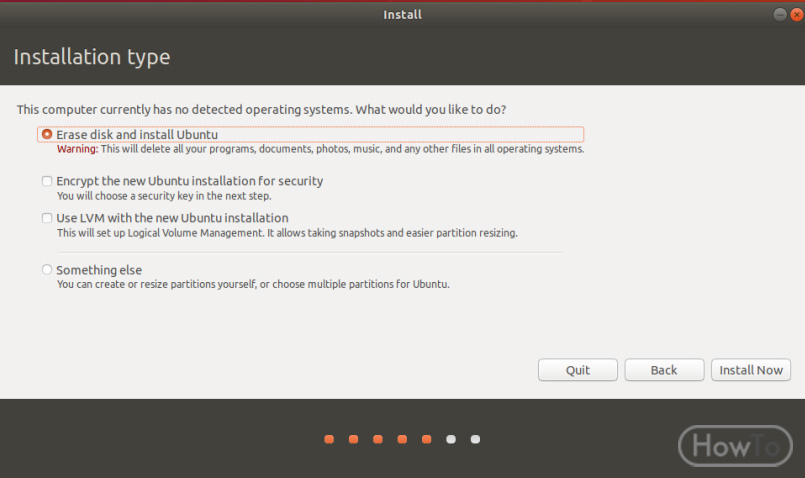 Erase disk and install Ubuntu:
This option means to delete or clean your hard drive and install Ubuntu. This checkbox removes the existing operating system and other all type of data from all partitions.
 Something else:
This checkbox gives you an option for selecting and formatting different spaces for Boot, SWAP area and home directory.
Start Installation
After space allocation for Ubuntu, press the " Install Now "option. A small window box will appear and show the details of your storage selection. Now press the Continue option and start the installation process.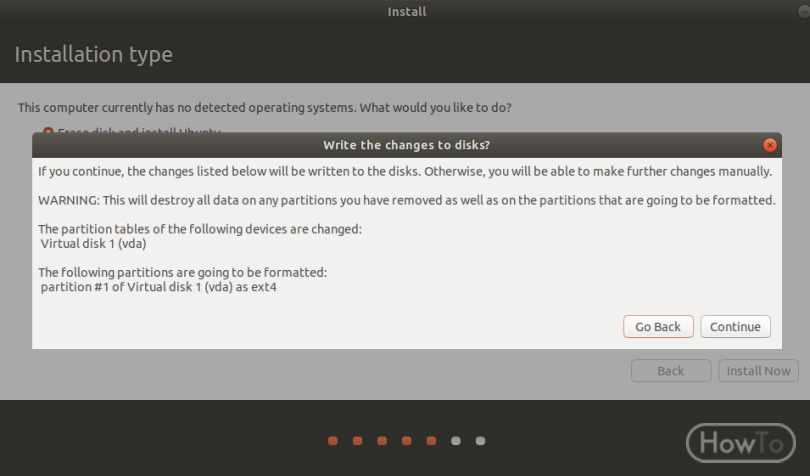 Select your Time Zone or Location
Select your time zone with the name of your nearest local town or any other city name. if you have an internet connection then your location automatically detected.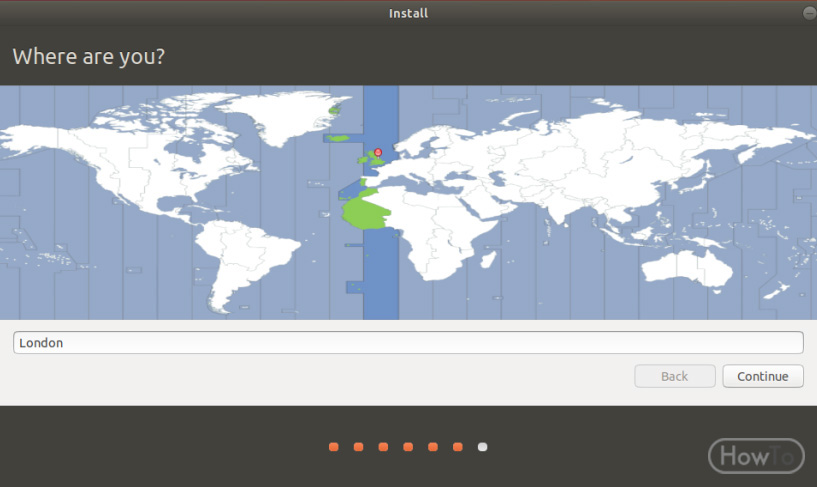 User Name and password Details
Choose the user name and password here, the installer automatically suggests you the name of your PC with your username. This username will appear on Network during your login with your PC. Secondly select a strong password for your laptop, installer tells you about your password it is weak or strong.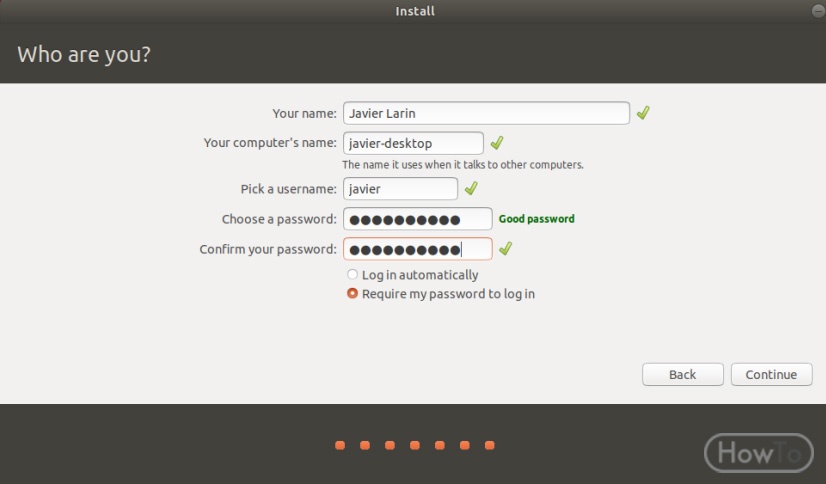 Overview of Backend Installation
The Ubuntu installer shows you the Ubuntu awesome graphics and its uses and that time it is completing your installation instructions automatically. This process will take some time it depends on your machine speed.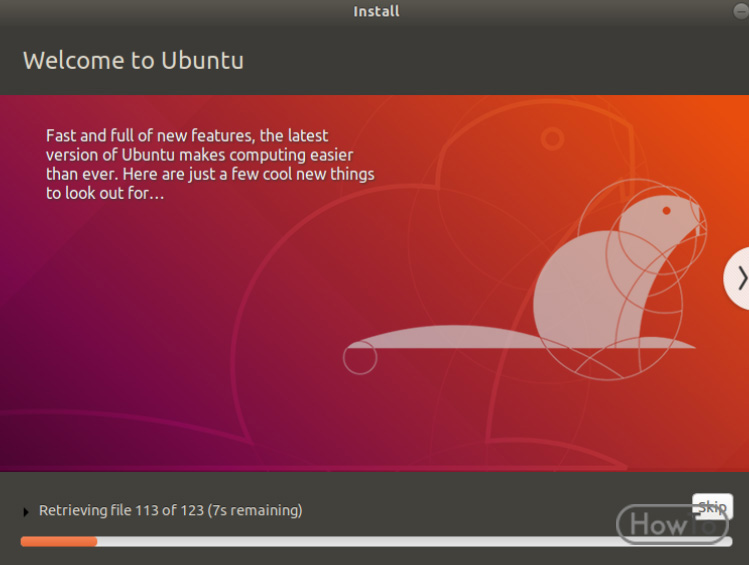 Ubuntu Successfully Installed
After the background installation a message will appear like:

Congratulations! The Ubuntu is installed on your PC / Laptop and restart the system and enjoy with Ubuntu operating system.
How to Install Ubuntu in Virtual Box
VirtualBox is open-source and freely available software. It is cross-platform for running a different kind of operating systems and other software's on an existing operating system. You can run more than one virtual machines on a single physical server.
In this tutorial, we will discuss the Ubuntu installation in VirtualBox.
Start the VirtualBox and select the " New " option, a window will come out.
Select your operating system and the architecture for Ubuntu ( 64 – bit or 32 – bit ).
Allocate the Base Memory for Virtual Machine from slide bar.
Press Next option again and again until VM storage size not appear. Now decide or allocate the space depending on your hard disk and exit the wizard pressing " Create Button " option.
On the main window of the VirtualBox select START button and also select MEDIA SOURCE from the directory where it is placed or select the .ios extension file from the folder.
Install the Ubuntu like above-mentioned steps and finish the installation.
Remove the USB or .iso file from your laptop before restarting the virtual machine.
Enjoy the Ubuntu with VirtualBox.
How to Install Ubuntu on Chromebook
This part of the tutorial we will discuss the installation of Ubuntu on Chromebook, but before starting the installation remember these points.
It's better to connect your PC or Laptop with the power source.
Make a free space up to 20 GB for Linux / Ubuntu operating system, SWAP area, and your home storage.
It's a very important note, make sure about your backup data. During the Ubuntu installation, a little mistake may be lost your data.
A complete procedure for installing Ubuntu on Chromebook
From Chromebook hold, " Esc + Refresh " and also click the Power button like the image is given below.
On the screen, you will see a message Chrome OS is missing or damaged don't worry about these type of messages, press Ctrl + D.
Press Enter and anticipate to look at a series of techniques happen even as you take a seat back and wait. You'll get a 30-2d countdown to trade your mind and then the pc will begin Preparing for Developer Mode. This will require several minutes.
Now your system is moving to the developer mode, a set of messages on your screen, this process will delete or clean your local folder or files.
Now wait for OS Verification, your screen will off.
Log in with your Google account through your local network, during this process Developer Mode show your account and network info.
Open the Chrome Browser.
Search this URL: https://github.com/dnschneid/crouton
From the above URL download the Crouton file.
Open terminal with a shortcut key ( Ctrl + Alt + T ).
Write the " shell " on the terminal.
Write " sudo sh ~/Downloads/crouton -e -t touch,xfce " with a new line of localhost.
Now enter a new password that you want and press Enter.
Then verify your password.
Again third time system will ask you encrypted passphrase password and press enter.
Then verify your passphrase password and press Enter.
Now installer automatically runs several processes in the background. After completion of these process's installer again your username.
Enter the username for the Ubuntu operating system and press the Enter button.
Now select a new password for your Ubuntu account and again confirm this password and press the Enter button.
Write this command on terminal " sudo startxfce4 " and press Enter button.
Congratulations! Enjoy with Ubuntu on your Chromebook.
How do I install Ubuntu instead of Windows?
Download
Ubuntu
, create a bootable CD/DVD or a bootable USB flash drive. Boot form whichever one you create, and once you get to the
installation
type screen, choose
replace Windows
with
Ubuntu
.
5 Answers
Install Ubuntu alongside your existing Operating System(s)
Erase disk and install Ubuntu.
Something else.
Is it easy to install Ubuntu?
The Ubuntu desktop is easy to use, easy to install and includes everything you need to run your organisation, school, home or enterprise. It's also open source, secure, accessible and free to download.
Can I install Ubuntu on a USB?
Ubuntu can be installed from a USB flash drive. This may be necessary for most new portable computers without DVD drives and is handy for others because a USB flash drive is so convenient. Also, you can configure Ubuntu on the USB flash drive to save changes you make, unlike a read-only CD/DVD disk.
Can I use Ubuntu without installing it?
You can try fully functional Ubuntu from USB without installing. Boot from the USB and select "Try Ubuntu" it is as simple as that. You don't have to install it to try it. Test sound, microphone, webcam, wifi and any other hardware you have works.
Can not install Ubuntu from USB?
Before booting Ubuntu 18.04 from USB you need to check if the USB flash drive is selected in BIOS/UEFI in the Boot devices menu. If USB is not present, the computer will boot from the hard drive. Note also that on some of the newer computers with UEFI/EFI you will have to disable secure boot (or enable legacy mode).
What size USB Do I need to install Ubuntu?
What do I need to get started? To install Ubuntu from a USB memory stick you need: A memory stick with a capacity of at least 2GB. It will be formatted (erased) during this process, so copy any files that you want to keep to another location.
How do I know if my USB is bootable Ubuntu?
If you're asking if your USB Flash Drive is bootable, then insert the drive into the USB port on your computer then VIEW the contents of the drive. DO NOT attempt to boot with a USB Flash Drive unless you are 100% sure that you know the source of the drive, where it came from, what's on it, etc.
Can I install Ubuntu on BIOS?
Install Ubuntu 18.04 LTS (Bionic Beaver) on UEFI and Legacy BIOS System. Ubuntu 18.04 supports UEFI firmware and can boot on PCs with secure boot enabled. So, you can install Ubuntu 18.04 on UEFI systems and Legacy BIOS systems without any problems.
Should I install UEFI mode Ubuntu?
if the other systems (Windows Vista/7/8, GNU/Linux) of your computer are installed in UEFI mode, then you must install Ubuntu in UEFI mode too. if Ubuntu is the only operating system on your computer, then it does not matter whether you install Ubuntu in UEFI mode or not.
Does Linux require UEFI?
There is at least one good reason to install Linux on UEFI. If you want to upgrade the firmware of your Linux computer, UEFI is required in many cases. For example, the "automatic" firmware upgrade, that is integrated in the Gnome software manager requires UEFI.
What is UEFI secure boot Ubuntu?
UEFI Secure boot is a verification mechanism for ensuring that code launched by firmware is trusted. On these architectures, it may be necessary to re-sign boot images with a certificate that is loaded in firmware by the owner of the hardware.
Can Ubuntu run with secure boot?
Choose a Linux Distribution That Supports Secure Boot: Modern versions of Ubuntu — starting with Ubuntu 12.04. 2 LTS and 12.10 — will boot and install normally on most PCs with Secure Boot enabled. Users may have to disable Secure Boot to to use Ubuntu on some PCs.
Is it OK to disable secure boot?
Of course, if your browsing is normal and safe, then Secure Boot is usually alright turned off. It can also depend on your paranoia level. If you're someone who would rather not have internet, because of how insecure that has the potential to be, then you should probably keep Secure Boot enabled.
How do I bypass UEFI secure boot?
Go to Troubleshoot > Advanced Options: UEFI Firmware Settings. Find the Secure Boot setting, and if possible, set it to Disabled. This option is usually in either the Security tab, the Boot tab, or the Authentication tab. Save changes and exit.
What is UEFI boot mode?
UEFI boot mode refers to the boot process used by UEFI firmware. UEFI stores all the information about initialization and startup in an . efi file that is saved on a special partition called EFI System Partition (ESP). The UEFI firmware scans the GPTs to find an EFI Service Partition to boot from.
How old is UEFI?
The first iteration of UEFI was documented for the public in 2002 by Intel, 5 years before it was standardized, as a promising BIOS replacement or extension but also as its own operating system.
Should UEFI boot be enabled?
If you are planning to have storage more than 2TB, and your computer has UEFI option, make sure to enable UEFI. Another advantage of using UEFI is Secure Boot. It made sure that only files which are responsible for booting the computer boots up the system.