How to Upload Music to SoundCloud
SoundCloud is no wonder the best music sharing and listening platform. There is the countless number of music streaming service available in our fingertips, but SoundCloud is ahead of the competition. Renowned artists prefer SoundCloud as their primary platform to share music as the party-line has plenty of services.
SoundCloud allows users to sign up and upload their music for free however paid subscription is also available. Uploading music from Computer to SoundCloud is relatively straight-forward and straight-forward; nonetheless, you will require some tips on how to upload music to SoundCloud from Android and iOS devices.
1. Method to Upload Music to SoundCloud using Computer
Preparing Audio File and Requirements
SoundCloud does not allow every music format to upload to their platform. First of all, you are required to convert the music file to a proper format, which includes MP3, OGG, WAV, AAC, MP2, and AIFF, and so on.  We recommend using anything to Mp3 Converter online tool to convert the unsuitable music format to a viable SoundCloud format. High bitrates and AAC format are preferable as high quality and optimized setup. Everything requires to upload the music file to the site and choose between the file formats. We recommend you choose MP3 size as it is a widely used music file format, also set the bitrates and hit covert. The converted file is downloadable, download it and save in local storage. Also, keep in mind, the file size should not be significant. Uploading a large music file size of run time more than 6 hours and 45 minutes causes an error.
Each SoundCloud subscription has time-bound allowed while uploading the music. Free user is allowed to upload only 180 minutes (3 hours) of content. Paid subscribers have two options according to payment, a pro user can upload contents of 6 hours, and Pro Unlimited User has no time limit to upload music file.
Most of the web browser is capable of running and uploading music to SoundCloud; however, old versions of web browser may glitch out while performing. We suggest you update the required device and browser version for it to work correctly.
Uploading Audio File to SoundCloud
Uploading an audio file to SoundCloud is pretty straight-forward. Follow the guidance below for a proper solution.
Open your preferred browser and browse to the SoundCloud website.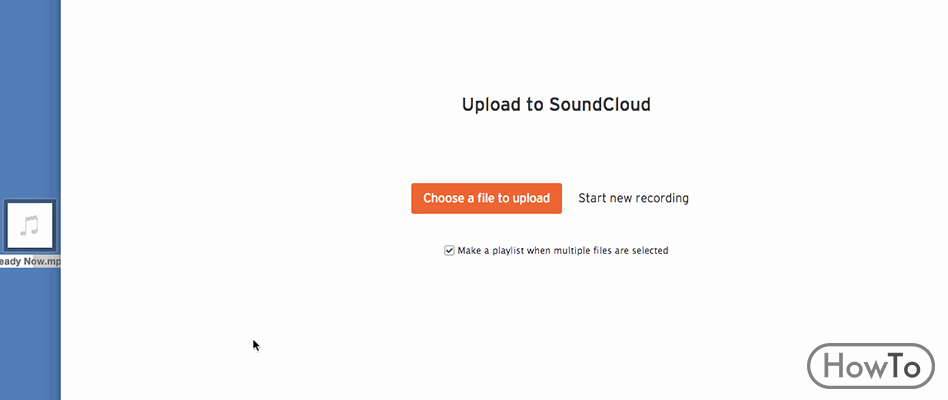 Log in to your SoundCloud account, make sure you have activated the SoundCloud account.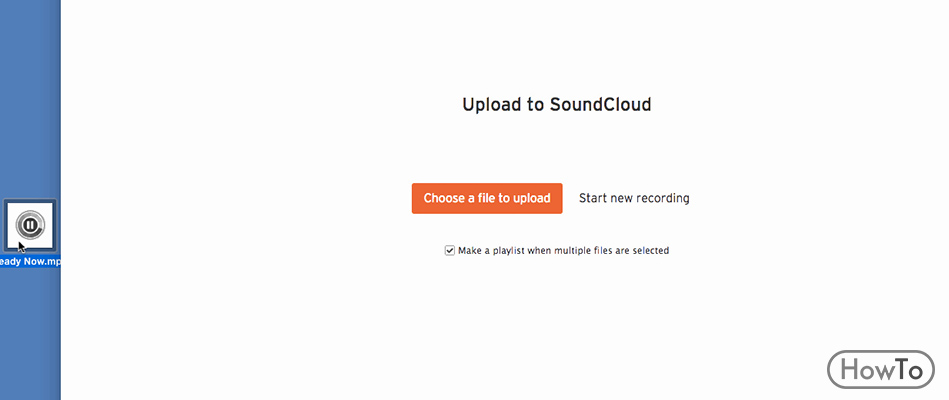 Now, visit the upload page, click on the "Upload" tab available right next to the "Profile" tab.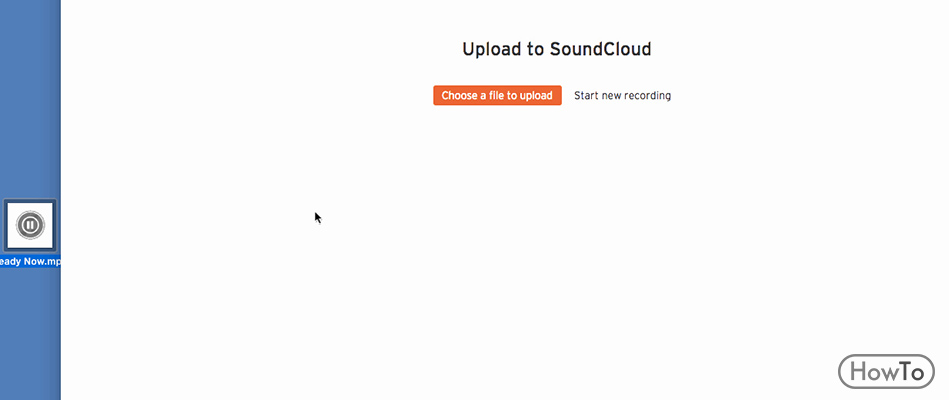 After you are into the upload page, you have an option to drag and drop or to import music files manually. Since you have already converted files to proper SoundCloud format, you may not experience any problem while uploading them.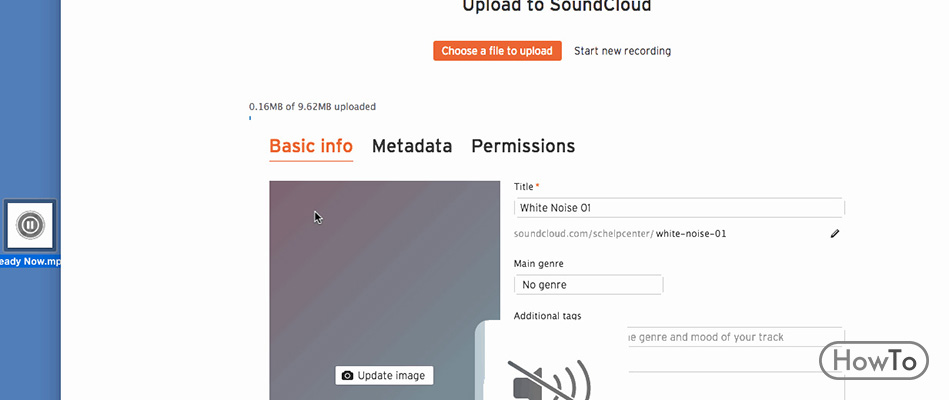 Wait till the upload is complete; it may take a full minute depending upon the file size. While files are being uploaded, consider filling the forms of necessary titles, tags, and descriptions. You have the option to save the upload as private or public; select the preferred radio button to choose.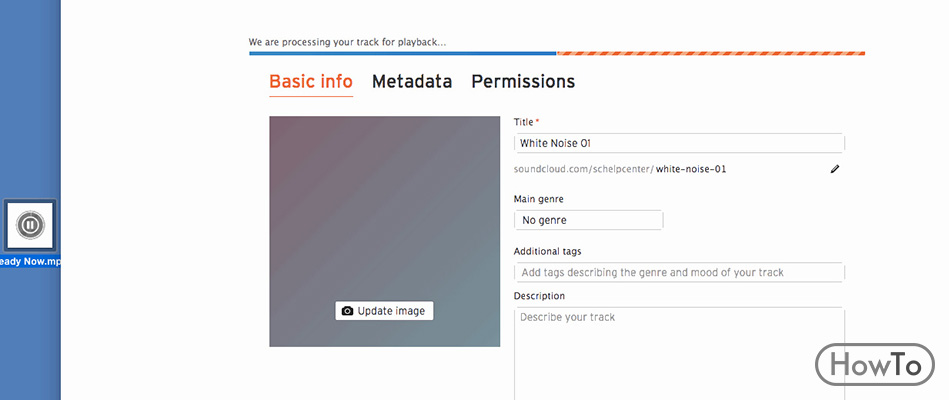 Finally, click on "Save" to upload music to your tracklist.
2. Way to Upload Music to SoundCloud from Android Phone
To upload music to SoundCloud from Android Phone, it requires some scheme or a third-party application like ZArchiver. A best suitable solution is described below, go through following for proper guidelines.
Upload Music to SoundCloud from Android Phone Directly
You can directly download music from Android to SoundCloud library using the share feature readily available on every mobile phone.
First of all, you will require a file explorer – which every Android phone has and, of course, the SoundCloud application. SoundCloud app is available in Google Play store free to download.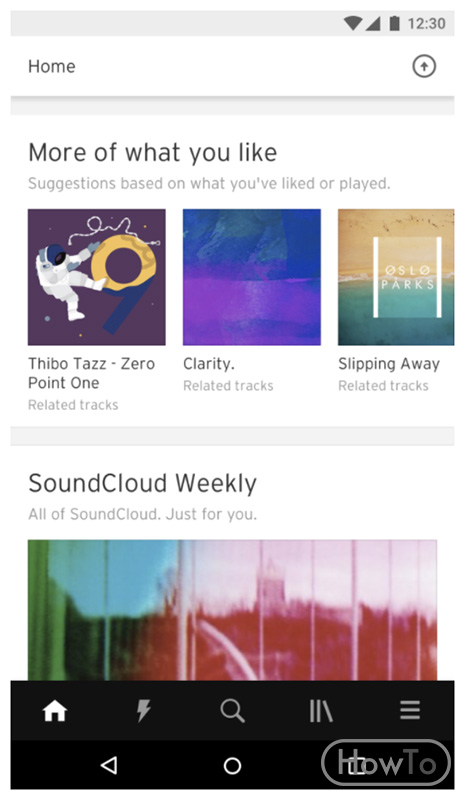 Open the file explorer and search for the song to upload. You might have your songs saved in the SD card or the Phone Memory.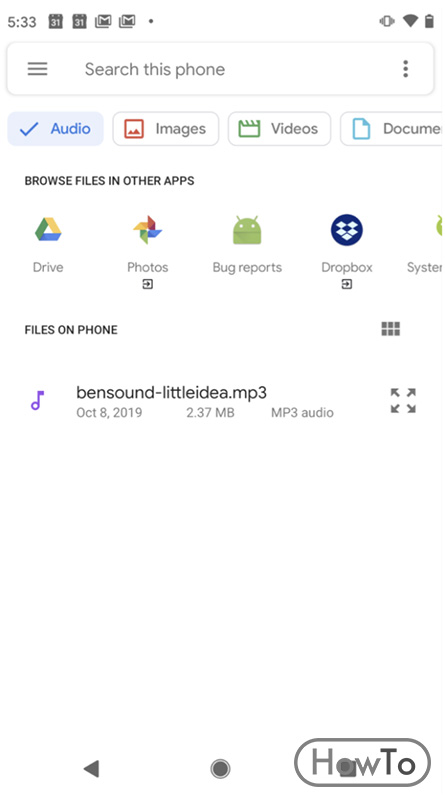 After you have found your music, click and hold the song title for a second until it shows the share option.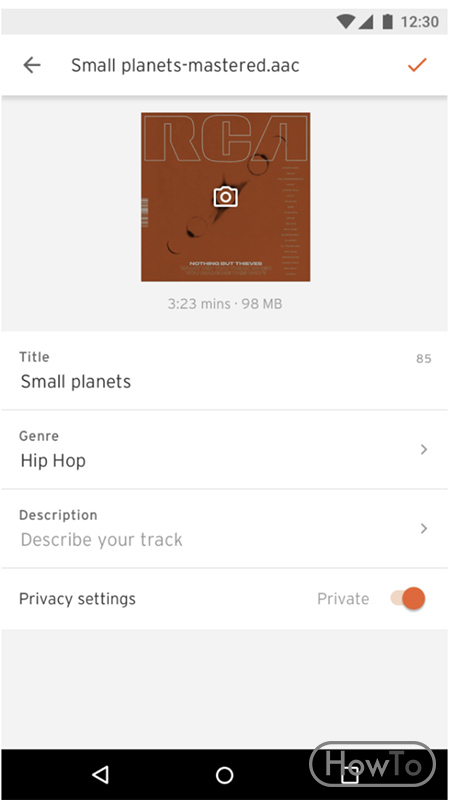 Now, search for the SoundCloud app; click on it.
SoundCloud app will generate an upload platform where you are required to enter titles, tags, and descriptions. You have the option to save the upload as private or public, select the preferred radio button to choose.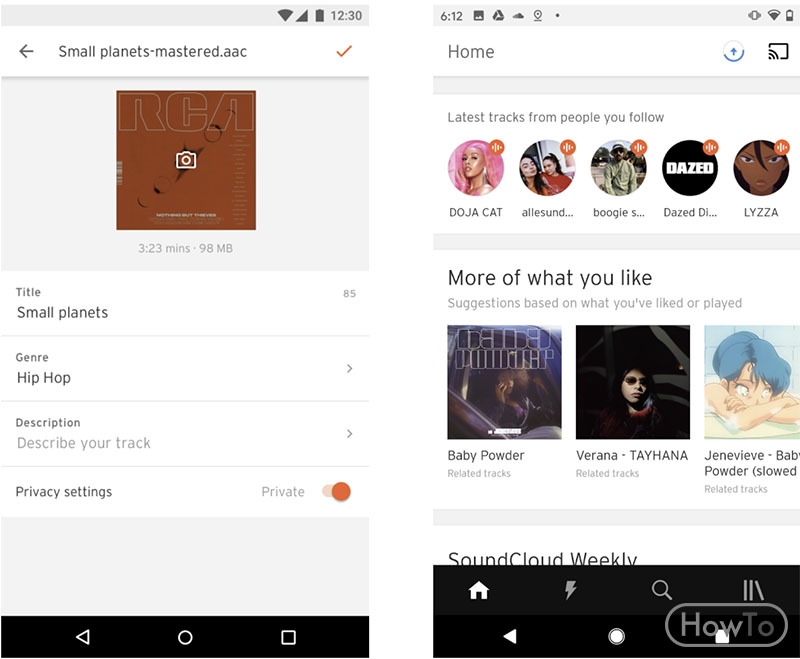 Finally, click on "Tap to post for recording," which will process to upload your music to your SoundCloud account.
3. Way Upload Music to SoundCloud Directly from iPhone and iPad
Uploading music directly from an iOS device to SoundCloud is a little inflexible. You need to perform a browser scheme to be able to upload music to SoundCloud. Go through the following steps for a proper solution.
Open the iOS browser; Safari and browse to SoundCloud official website.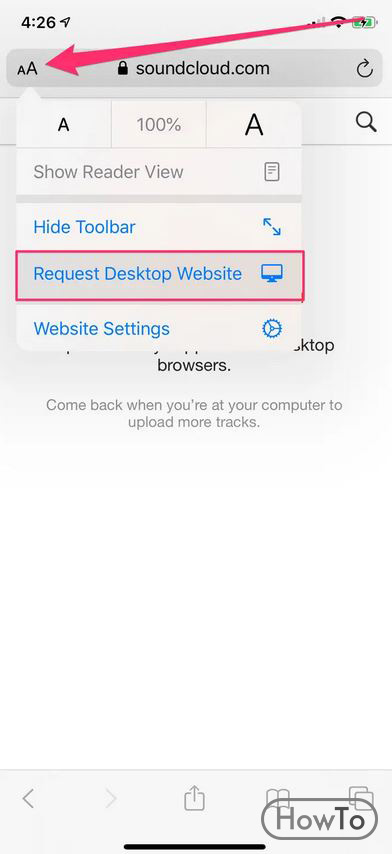 On the SoundCloud website, log in to your account in case you have not already. You have an option to login as Facebook or Google accounts.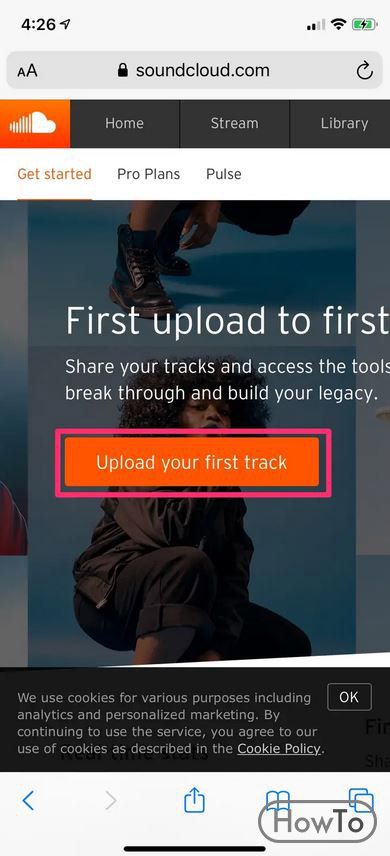 Gesture through and go all the way down to the bottom, which shows other apps and menus action bars.
Now search for "Request Desktop Site," which will modify the site to desktop mode in your mobile browser. For proper visibility and simplicity, consider changing the portrait view to landscape mode.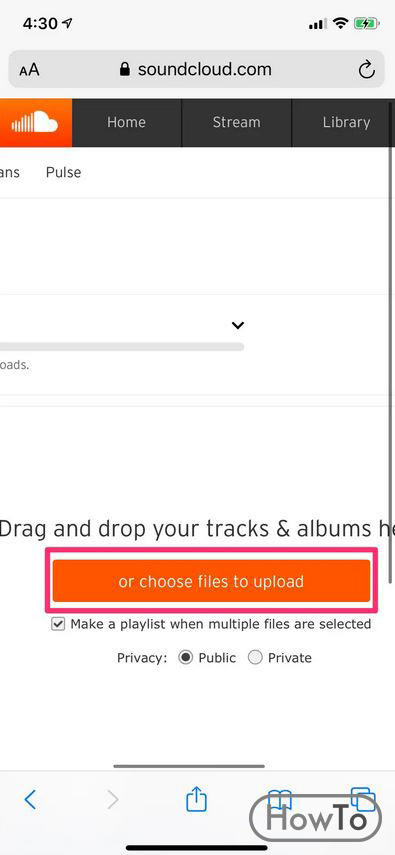 On your profile page, after you are signed in, you will see the "Upload" tab lying next to "Profile."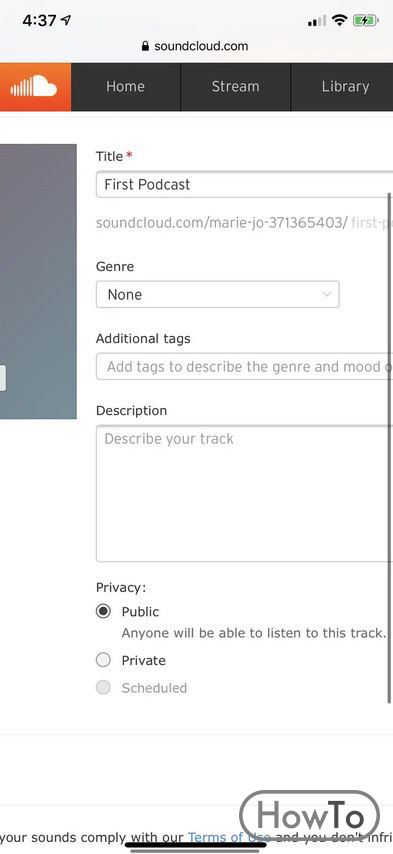 On the upload section, browse through your local file storage and find the music file to upload. Now, select the music to upload it.
While a file is being uploaded, consider filling title, description, and tags suitable according to the music.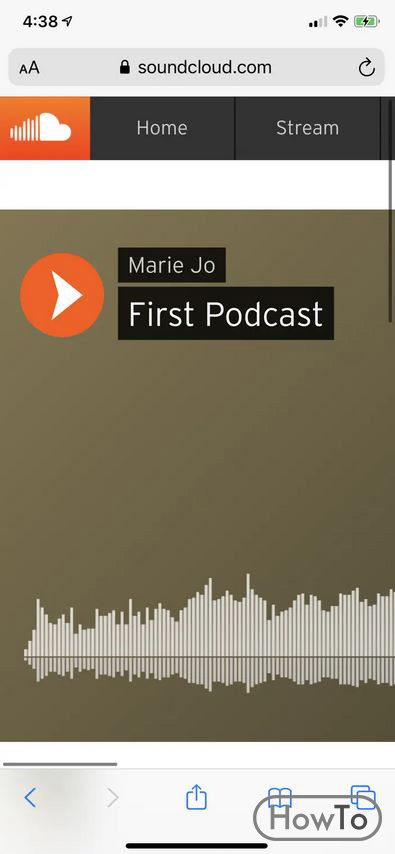 Tap on "Save" to make changes after the upload process is completed.
Uploading music from various platforms, Windows, Mac, Android, and iOS devices to the SoundCloud is well explained in the above section of the article. Pirated songs and music are detected and reported for copyright infringement. These uploads will be taken down in no time. You must consider all the requirements and viable terms and policies while uploading the music to SoundCloud.
How do I upload music to SoundCloud from my phone?
Because beginning today, you can upload to SoundCloud directly from your phone. Within the SoundCloud app, tap the upward-pointing arrow on the top right of your home screen. Select any audio file from your phone (upload lossless HD files like FLAC, WAV, ALAC or AIFF for best audio quality).
Can you upload music to SoundCloud for free?
How much can I upload to SoundCloud for free? As a free user on a Basic plan you can upload up to 3 hours of audio. The maximum file size is 4GB. If your file exceeds these criteria, please split it into separate uploads.
How much does it cost to put music on SoundCloud?
What type of subscription is for me?
| Pro Unlimited | Repost by SoundCloud* |
| --- | --- |
| $144/ year | $30/ year |
| All Repost by SoundCloud features and tools are included* | Distribute unlimited music to Spotify, Apple Music, TikTok and Instagram and every major music service around the globe, while keeping 80% of your revenue |
How do I upload my SoundCloud to 2021?
Why can't I upload to SoundCloud?
Check your upload allowance, and make sure you've got space to upload. Make sure you follow our upload requirements. Confirm your email if this is not done. Check our Status Blog to make sure that there are not any interruptions on site that could cause you difficulties loading pages.
Can you make money on SoundCloud?
The SoundCloud Premier payment system is based on how much SoundCloud makes from advertising and paid subscriptions. If SoundCloud makes good money, you earn more. If their income decreases, so will yours. And third, you'll only get a 55% revenue share.
How much does Spotify pay per 1000 streams?
You can expect to make anywhere from $2 and $4 per 1000 streams on Spotify. The average pay-out per stream on Spotify is $0.003.
How much does Spotify pay for 1 million streams?
Eventually students will be ready to find out how much the artist earned. At $0.00437 per stream, he would multiplying $0,00437 by 1,000,000 to learn that one million streams should earn him $4370. When they're ready, play the video below.
How many SoundCloud followers do you need to get paid?
In order to qualify for Premier, you must be an independent creator with a Pro or Pro Unlimited account and have at least 5,000 plays in the past month from SoundCloud-monetized countries (which, for now, is limited to the US, UK, Canada, Australia, France, Germany, Ireland, the Netherlands, and New Zealand).
Why can't I monetize my SoundCloud?
What can I monetize on SoundCloud? The only songs you can monetize on SoundCloud through Proton are songs you've officially released on your label. This means you CANNOT monetize DJ Mixes or unsigned tracks that you have not officially released on your label.
How much does Spotify pay per stream 2021?
As mentioned, each platform pays differently and has different factors that come into play to determine your stream's total payout. As for how much Spotify pays per stream, they pay roughly $0.04 per 10 streams.
Is SoundCloud a good way to get noticed?
SoundCloud is a community that rewards interaction, so the best way to get thousands of plays and look popular is to find other SoundCloud users with similar music and tastes to your own. Interact with them, like their music. If you like their music, they will come looking for your music.
How do I get my music noticed?
Is SoundCloud legal?
You can download songs on SoundCloud through the website, with Google extension, or any other third-party website. However, be advised that downloading an item from SoundCloud without permission will be a violation of the company's copyright laws.
Can you go to jail for downloading music?
Consequences of Illegal Downloading

Under the Digital Millennium Copyright Act, distribution of copyright materials is punishable by law. Those found guilty of copyright infringement may face the following penalties: Up to five years in jail. Fines and charges of up to $150,000 per file.
Why is SoundCloud so bad?
SoundCloud has become somewhat notorious in popular culture — notoriously bad. SoundCloud's central feature is its complete lack of gatekeepers. Anyone can upload music, whenever they want, from wherever they want. Even Elon Musk can post his cringeworthy tracks on SoundCloud.
Does SoundCloud own your music?
This is perhaps the most important provision in the entire SoundCloud terms: You retain ownership of everything you upload to SoundCloud. And "SoundCloud does not claim any ownership rights in Your Content." This is exactly as it should be – well done, SoundCloud.