How to Change Etsy Shop Name
Online marketing or digital marketing is one of the most happening market places in this modern world of globalization. Etsy is such an eCommerce platform based on America, where you can sell and show off your homemade crafts and vintage items. The items may include jewelry, clothing, and other homemade things.
Etsy Shop Name Availability
You can use three types of names that represent your availability on the eCommerce platform. You can use your username or the shop name or else the full name to do your business through Etsy. The more attractive the name of the shop will be the more people will visit the shop online. The shop name depicts the types of things available in it. The chances will increase as many people will get into your shop. Here we are presenting you with some tips which can be helpful for you in the course of managing or finding the name of your shop.
Brainstorm for the perfect name you want to keep for your shop. Look around you and to similar types of shops. Those names may be helpful for you to keep the name of your shop.
You can use some words which have positive vibes as well as signal to a more significant name. At the same time, the name should be understandable for the visitors too.
Now after you have selected the name you want to put for the promotion for your shop, you need to put it for the availability check. If you think that only Google search and Etsy search will be enough for that, then you are wrong. You need to put the name while you are creating the shop and then it will check the availability of that name. It is just like the availability of the particular email address in different mailing platforms.
Why cannot Use the Same Shop Name?
Since the shop names are entirely unique in the case of Etsy, so you will not be able to use a similar name. If one name is registered then you will not be able to use the same name again.
As it is a business, you can't use a name that already has a trademark against it in the database of the website. When you are putting a particular name for your shop, the trademark authority will verify it, and then only you will be able to use it.
Finding the availability in Etsy is not a very effective way to search for the name of the shop. There may be closed shops too with the same name but the Etsy search is not that effective to search for the name of the closed shop.
Reasons behind the Three Names on Etsy Shop
Since there are three types of names you need to enter to open an Etsy shop account, all of them have different significance. While you want to sign in to your Etsy shop account, you need to log in through the user name. You can also sign in with the email address and your user name is public information.
Now let's get into the shop name as it becomes your web address to find it easily. The shops names are the extra add ons to the buyer's account and you can't sign in through the shop name.
Another name you need to put in your full name. It is actually optional and it represents you as an individual. If you have a full name that is easy to remember, your friends will find you easily on EtsyShop.
But when you are putting the full name, you need to be cautious about it. You can't put a full name as a business name but you can put your first name or your initials.
If you have more than one partner in your business, then you can have multiple user names for your partners too.
How to Change Your Shop Name on Etsy App?
According to the rule of the eCommerce platform Etsy, you are allowed to change the name of your shop time and again until you have opened it. But once your shop starts functioning, then there are certain rules and regulations to change your shop name as you have to follow in the physical world.
First of all, you need to get into the website 'Etsy.com' and then go to 'Your Account'. Now click on 'Shop Manager' and get into 'Settings'.
From there go to info and appearance and click on Change and then on Shop Name. Here you will get the option to put the new name for your shop and click on save. You can put a name which is not longer than 20 characters.
You can't have spaces or punctuations in the name but capitalization is accepted in case you want to distinguish separate words on the name.
Here are some facts that you should surely know about the changes in the name at Etsy shop. Since you have to put three names to open the account you need to put a username. But you can never change the user name until and unless there is any direction from the Etsy shop authority.
What if You Need to Change the Name Time and Again?
You can't change the name of the shop time and again. You have limitations of 5 times to change the name of the shop. During these, you can change the name through the Info & Appearance. But if you find it is not enough for your shop, then you needed to put an application to the Etsy shop support. They will review your request and if they find it necessary to change the name, they will help you for the same.
● Etsy Name Search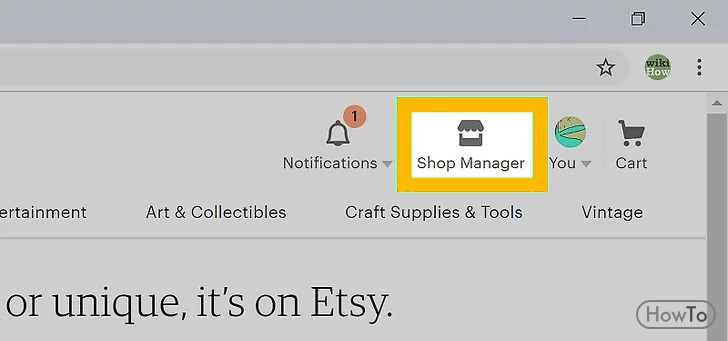 When you are opening a shop in Etsy, then you need to put a name in the required field for your shop. There is an option to check the availability of the name so that the names of two existing shops don't match. There you will get some options too as your name. But it will not show you if you are going for the same name of a closed shop.
● Etsy Shop Manager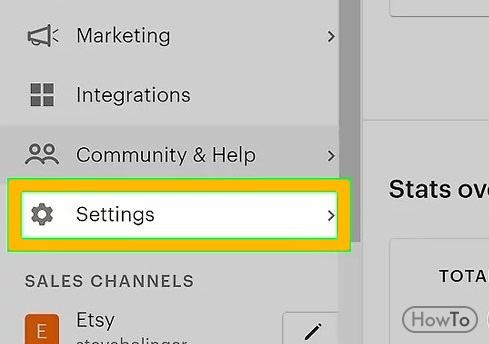 If you are a seller in Etsy, then you need to get a shop manager for you. It will keep track of your sales. You can see the dashboard for your necessary information. You need to sign in to your account on Etsy and then go 'Shop Manager'. Now you will get options to accept the payments and the amount will enter into your bank account. You will be able to see what are the sales and incomes for you through Etsy. The shop manager also works as a Shop adviser for you and tracks recent activities.
How Long does it Take to Approve a Name Change?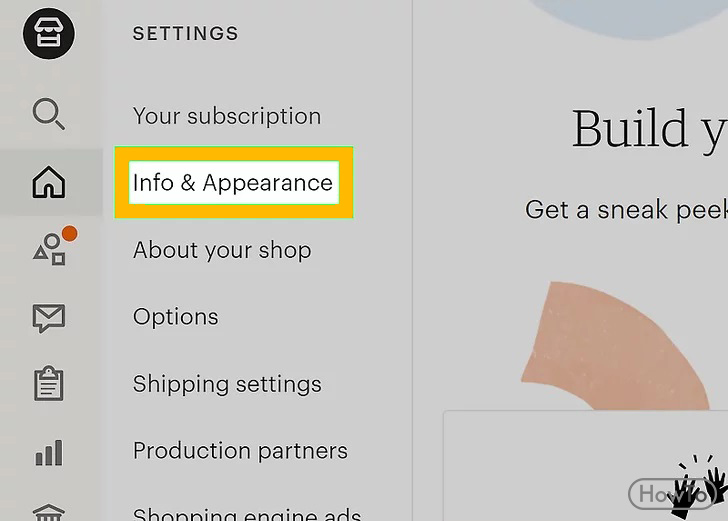 If you want to change the name of the opened shop, then you need to go through some legal formalities. You need to appeal to the court for that and it generally takes 2-6 weeks to get the legal order. Often the attorneys are much faster in the process than you do it yourself.
How do I Change My URL on Etsy?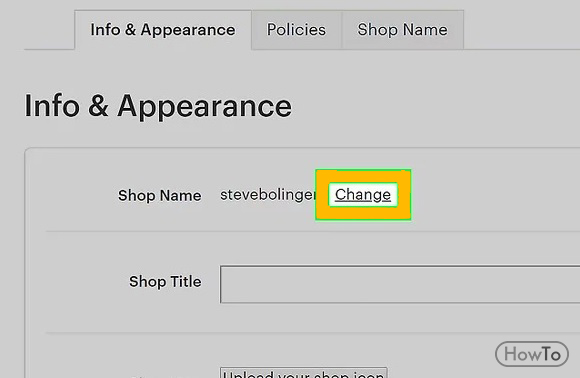 You are not allowed to change your URL in Etsy. You have to register your own World Wide Web or 'www'. Then only you can direct it to the Etsy shop.
Should I Trademark My Etsy Shop Name?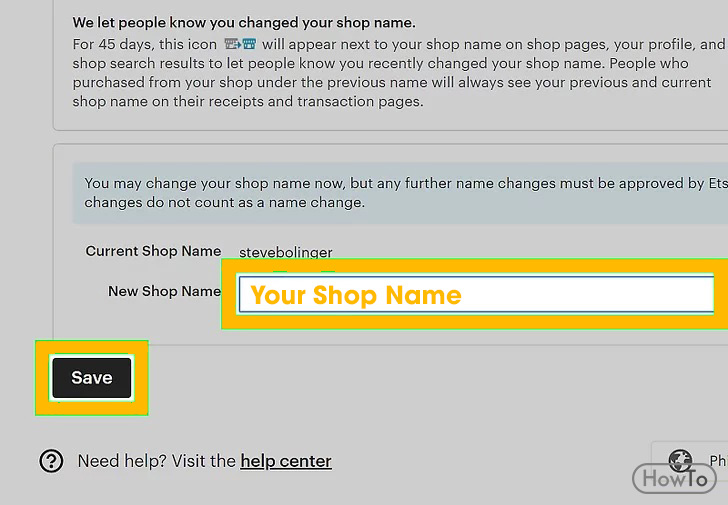 A trademark is the mark of recognition for a business. While you are going to do business, you need to have a trademark that should be unique. No one will have the right to use this for their business except you. Yes, you should do it for the protection of your shop name. Once you get the perfect protectable name for your shop, you can register it with USPTO so that you can obtain the registered trademark. It is very important to make your brand unique if you are dealing with any costume or jewelry.
Tips
Use Etsy to give your business an online boost.
You can change the name of your shop several times until it is open. Once open you have to go through several legalities.
You need to buy a domain for the business.
Why can't I change my Etsy shop name?
If your shop isn't open yet, you can change your name as often as you like before you open your shop. Once your shop is open, you can change your shop name in Info & Appearance up to five times. If you need to change it again, use the same form to submit a name change request to Etsy Support.
What is the difference between Shop name and title on Etsy?
Your shop title is a bit of text that appears under your shop name on your shop homepage. It can be up to 55 characters. Your shop title will also become the "page title" for your shop page.
How do I name my Etsy shop?
Pick an Etsy shop name that is easy to pronounce and spell. The former helps shoppers remember your name, the latter makes it easy to find you again. Your Etsy shop name cannot be longer than 20 characters and can't contain spaces or punctuation.
How do you change owners on Etsy?
If you have sold the business you run on Etsy to someone else, you can't transfer your Etsy account to the new owner. Instead, the new owner must open a new Etsy account and shop. We recognize that it's not uncommon for a small business owner to buy or sell a business.
Can I give my Etsy account to someone else?
No, you can't transfer your Etsy account to someone else. If you have sold the business you run on Etsy to someone else, you can't transfer your Etsy account to the new owner. Instead, the new owner must open a new Etsy account and shop.
Can an Etsy shop have two owners?
Etsy does allow you to have more than one shop per person – but not per account. Each Etsy account can only have one email address and shop at a time. This can be frustrating for some small business owners who want to have more than one account – but can't have them all in one place.
How much does the average person make on Etsy?
While fairy tales of wildly successful Etsy sellers abound and overall sellers report an average household income of $56,000 annually(opens in a new tab), up to 65 percent of those sellers(opens in a new tab) earn less than $100 per year from their Etsy shops.
Do you have to use your real name on Etsy?
Showing your full name is always optional. You don't need to enter a full name and you can always remove your name from your profile completely. If you choose not to provide a full name, we will show your username to represent you as a person." The post notes that real names will not be displayed for past activity.
Does Etsy show your name?
The URL of your profile page contains your username. It looks like this: etsy.com/people/[your username].
Can you use a nickname on Etsy?
Having a full name can make it easier for friends to find you on Etsy. Your full name can't be a business name, but it can be your first name, initials, a nickname you use in real life, or multiple names (if multiple people run your shop). You can change your full name at any time.
Do I have to report Etsy income?
If you sell items on Etsy, you must pay income tax on your income—usually, the total amount you earned by selling your products, less your business expenses. Etsy reports your gross income to the IRS on Form 1099-K, but even if you don't receive a 1099-K, you must report Etsy sales income on your tax return.
What is hobby income limit?
What Is Hobby Income Limit? There is no set dollar limit, because some hobbies are more expensive than others. One of the reasons a hobby is not considered to be a business is that typically hobbies makes little or no profit.
Do I need a tax ID to sell on Etsy?
What kind of taxpayer ID do I need? If you're a sole proprietor—meaning you are not a business entity that is a corporation, partnership or limited liability company—you may use your Social Security number for tax filing and reporting. Even if you're a sole proprietor Etsy shop owner, you can still opt to get an EIN.
Is selling on Etsy worth it?
The expense of selling through Etsy is lower, and lower risk, than selling at a craft show, so if you have lower profit margins, Etsy may be the better choice between the two. Etsy is also a better choice when compared to selling wholesale, if you have low profit margins.
How much do you make a month on Etsy?
Profit. On average, our Etsy shop owners priced their products at a 68% markup to cost. I found those numbers staggering and expected them to be raking in major profits. But with the exception of a few high volume shops, after Etsy fees and costs, the median shop brought in $291 of profit a month.
Why is Etsy so expensive?
Etsy is expensive because it manages your inventory online, This eCommerce system has a lot of traffic. I mean a lot of customers visits this site to purchase different items.
Which is better Etsy or Amazon?
Etsy can do more than handmade products

A big difference between Etsy and Amazon is size. Etsy has the benefit of growing off a much smaller revenue base than Amazon, so if you want growth, Etsy might be the better stock for you. In 2019, Amazon grew revenue by 20%, which accelerated to 40% in the second quarter.