Your car is your identity. Hence, maintaining it properly shows your personality. Removing scratches from your car is a multi-step process. However, there are a lot of techniques used to remove scratches. It starts with leveling the paint surrounding the scratch and ends with bringing the polish back.
Wet Sanding a Car to Remove Scratches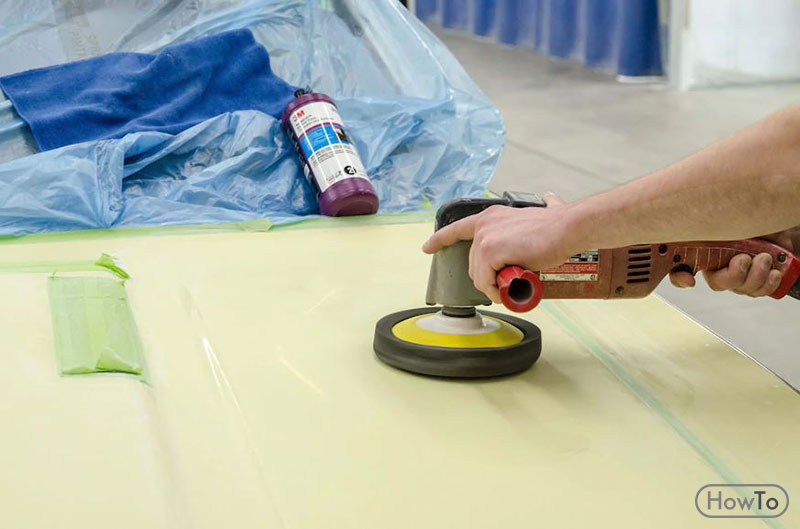 If your car body has scratches on it, the best way to remove it is wet sanding the car covering. Here we will be discussing step by step methods of how to wet sand a car to remove scratches.
Primarily, you need to have a water spray, sandpaper, a backup pad, polishing cream, and a polish grinder.
Add some detergent or shampoo in water and fill it in the water spray. Gently spray the mixture over the scratches.
Now, take the sandpaper according to the required size and wrap it around the backup pad for a smooth grip.
Spray some soap added water to wet the sandpaper and rub gently over the scratches. Remember; do not give extra pressure as it will remove the paint and coating.
Do not rub the sandpaper in a perpendicular or parallel direction to the scratches. Always give an angle while rubbing.
Then, wash the whitish slurry clear coating that came off. Add some polishing cream randomly on the body and start the polishing wheel and start polishing.
Finally, rub the area with a clean cotton cloth and you will notice the restoration of shine in your car.
How to Wet Sand a Car before Painting?
Before painting your car, you need to ensure that you remove all the former painting properly. Wet sanding your car will be an ideal choice in that case. This process is very simple and you can carry out the process without any professional help. You don't have to keep your car in a body shop that charges you a hefty amount.
Spray some soap added water on the car body. Take sandpaper and clamp it with a backup pad for a firm grip.
Gently rub the sandpaper at an angle several times. As soon as whitish slurry froth will appear, wash the body and clean it with a cloth.
Check if any residual painting remains. If traces of painting remains, continue the process for a couple of times more.
Now you are ready to apply paint on your car.
How to Wet Sand Clear Coat?
There are several techniques that car repair centers use to remove paint and clear coat. However, wet sand is by far the best technique. Moreover, you can use it by yourself without the help of any professional. Taking your car to a body shop and charging a hefty amount for this won't be worth it. All you need is some simple tools like sandpaper, backup pads soap, and water. You are on your own then. So here we will be discussing how to wet sand a clear coat in a step by step process.
Take some soap added water and fill it in a water spray. Spray the mixture over the clear coating.
Take a backup pad and wrap the sandpaper around it for a tighter and firm grip.
Gently rub in a curling motion over the clear coat surface. Do not give excess pressure as it may damage the painting.
Soon you will notice whitish slurry froth as you keep on rubbing with sandpaper. That froth is the clear coat coming out from the car body.
Wash the whitish froth with water clean and dry with a cotton cloth. Thus you remove the clear coat by wet sanding.
How to Wet Sand Primer?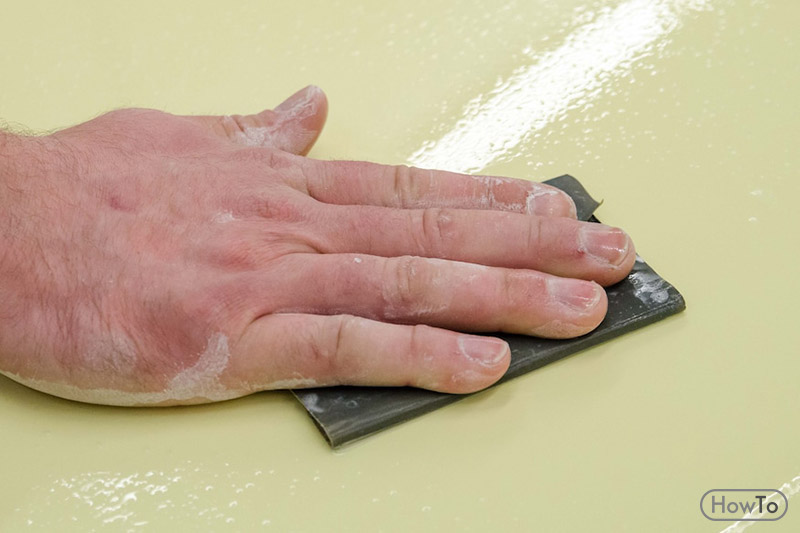 There are many methods that car repair centers use to remove paint and clear coat. Moreover, wet sand is by far the best method. Professionals may charge higher for this but it can carry out on your own, you can easily save a lot of money. However, once you get it done you will come out with a lot of knowledge regarding this.
Take some water and add some soap or detergent in it. Fill it in a water spray and spray the mixture over the clear coating.
Take a backup pad and wrap the sandpaper around it for a tighter and firm grip.
Gently rub in a round motion over the primer surface. Do not give excess pressure as it may damage the painting.
As soon as you notice slurry froth as you keep on rubbing with sandpaper, clean the surface with water. That froth is the primer coming out from the car body.
Wash the slurry froth with water and dry clean with a cotton cloth. Thus you remove the primer by wet sanding.
When should You Wet Sand a Car?
Wet sanding is a process that helps to give your car a mirror glow finish. Many can also apply it on guitars, 3D paints, etc. You need to do wet sanding mainly when,
Your car got some scratches.
Also when you need to remove the primer.
If you require to remove the clear coat.
And wish to remove the former painting.
To paint your car as well.
Is Wet Sanding Bad for Your Car?
Wet sand is a process that is used mainly to give additional touch-ups for helping in the polishing process. It is a multi-level process that levels up the paint by removing the clear coat and finally helps the polish to settle smoothly. However, sometimes too much pressure causes excess removal of a clear coat or paints that can affect the overall looks. In that case, you need a professional for help, if you don't know how to wet sand properly. Hence, wet sanding can be risky and dangerous sometimes.
What Grit do You Use to Wet Sand a Car?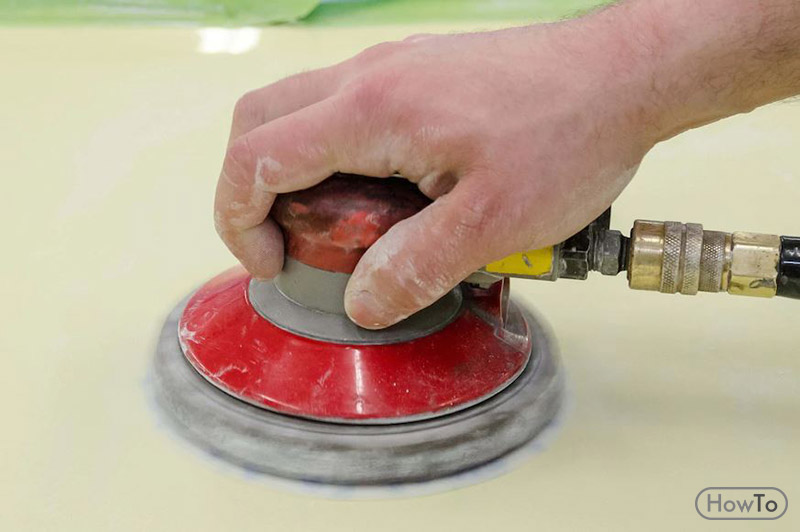 When you are wet sanding your car, you need to purchase grit sandpaper from a local hardware store. But what grit will you purchase? Well, that entirely depends on the type of operation you are doing.
If you want to remove scratches on your car, then a 1200 or 1500 grit sandpaper will be best.
However, if you are planning to remove the clear coat or primer, then 2000 or even 2500 grit paper will be favorable.
You cannot purchase any random sandpaper and perform any random operation. You always need to have a vivid and concrete knowledge before carrying out the operation.
How Much does it Cost to Wet Sand and Buff a Car?
Wet sanding and buffing is a long process and it takes time for a body shop to perform both the operations. It usually takes 7 to 8 hours for anybody shops to buff and wet sand a regular-sized car. However, it may vary depending on the skill sets of the professional. So, the charges may also vary depending on the professional and the time is taken.
If he charges 50 USD per hour, then it will cost nearly around 350 – 400 USD for a 7 to 8 hours operation.
Though charges may go a slight up and down, depending on the body shop you are approaching. However, it will not cost you over 500 USD.
Tips
Do not use a palm sander while wet sanding as it will leave a swirl mark in the paint or clear coat.
Never give excess pressure while rubbing with wet sandpaper. It can damage the original paint.
If you do not have any knowledge about wet sanding, it is better to seek help from a professional primarily.
How do you wet sand a car before buffing it?
How do you wet sand new car paint?
How long after painting a car can you wet sand?
Also, it's recommended to wait about one month after the paint job is completed before sanding. That's the best way to ensure the paint is fully cured.
Should I wet sand paint before clear coat?
Wet–sand the base coat before starting the clear coat. Wet sanding makes the surfaces smoother. If you wet–sand the base coat, wash the vehicle with soap and water after this step, not before. Once the base coat is smooth and clean, start spraying on about three to four layers of clear coat.
How soon can I wet sand enamel paint?
Wait at least two weeks after the last coat before starting any wet sanding for your finish.
Can I wet sand acrylic enamel paint?
1500 grit is not very agressive, so it should be fine . the last acrylic enamal I shot, the sheet said it can be wet sanded but the sandable portion on the paint is very thin compared to a traditional base coat/clear coat so you have to be oh so careful not to sand too deep.
Can I wet sand enamel paint?
When sanding enamel paint, you will use a technique called wet sanding. This requires water and high-grade sandpaper. This type of sanding makes it possible to achieve an extremely fine finish without actually damaging the surface. Frequently wet the paper by dipping the sanding block into the water.
Should I sand between coats of high gloss paint?
If the project has a high gloss finish or a clear top coat, lightly sand* the project with a medium grit sanding block. This will enable new paint coats to bond with existing paint coats. Remove sanding residue with a vacuum that has a soft bristled brush attachment.
How many coats of gloss should you do?
Apply two full coats of your chosen gloss or eggshell paint allowing each one to dry in-between.
How can I gloss without brush marks?
To get a perfectly smooth finish wait for the primer to dry and then lightly sand the surface with some Ultimate Fine Sandpaper. This will remove any brush marks and give you a perfectly matt surface to paint on.
How long should I leave between gloss coats?
Leave for 16 ish hours, you can leave it longer if say it is outside at this time of year as it will take longer to dry, but generally speaking it can be glossed the next day. Temperature, direct sunlight, moisture will all help to speed up or slow down the drying times. Hope this helps Pete.
What happens if you apply second coat of paint too soon?
Applying the second coat too early will result in streaks, peeling paint, and uneven color. Not only will this ruin the entire project but it'll cost additional money to get more paint in some occasions.
Can I paint over gloss paint without sanding?
Can you second coat gloss?
If you attempt to paint over glossy paint without sanding then you will most likely have a peeling issue in the future. Since the paint will not have anything to grab on to it will chip and peel easily. To avoid sanding you can, however, use a liquid deglosser such as Krudd Kutter or M1.
Can you gloss over old Gloss?
However, i find the best thing to do in your situation is to apply the first coat of gloss, then in the next 24 hours apply an second coat (without rubbing down), as it takes paints 72 hours to fully cure.
Do you need to sand between coats of water based gloss?
"Yes, you can overpaint on gloss but will need to sand the wood first.
Can u paint gloss on top of gloss?
You should lightly sand between each coat.
How much do you have to sand gloss paint before repainting?
If you want to paint over gloss with gloss there's no need to use it. Just give the surface a clean and sand before painting. If you are painting over gloss woodwork with a satin or eggshell finish, you also won't need to use this primer. Lightly sanding and cleaning will help the new paint adhere.